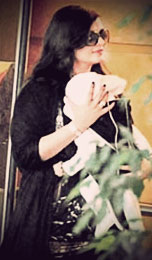 For her visit to Cannes, Aishwarya Rai Bachchan brought something very important along with her – her sweet baby Aaradhya. As we told you earlier, motherhood is a priority for her and so Aish brings the baby along to all of her engagements, makes sure she spends time with her during breaks or after the events are over and even makes sure she is napping before going out to a red carpet event. So of course Beti B, as Papa Abhishek Bachchan affectionately calls her, was with the star as she made a splash looking gorgeous in Cannes. On the red carpet, the star was inundated with questions about the baby and motherhood and Aishwarya was all smiles.
She could not help but gush a bit to CNN-IBN, "Motherhood is wonderful. You ask the question and I beam!" Adding, Aaradhya, who can you believe it is six months old already, is doing great!
Aish says she loves being a mother, "It's splendid… It's inexplicable. The joy, the bliss, is wonderful. A smile from my daughter and that's it! I'm actually walking on air!"
"She's my angel. I am just so happy," she adds.
Make sure and check out our exclusive pics from the media calls from Cannes and stay tuned because we have more from the Cannes red carpet events!
Now all we have to do is wait and watch for that first picture of Aaradhya, with those genes we are sure she will be a stunner!