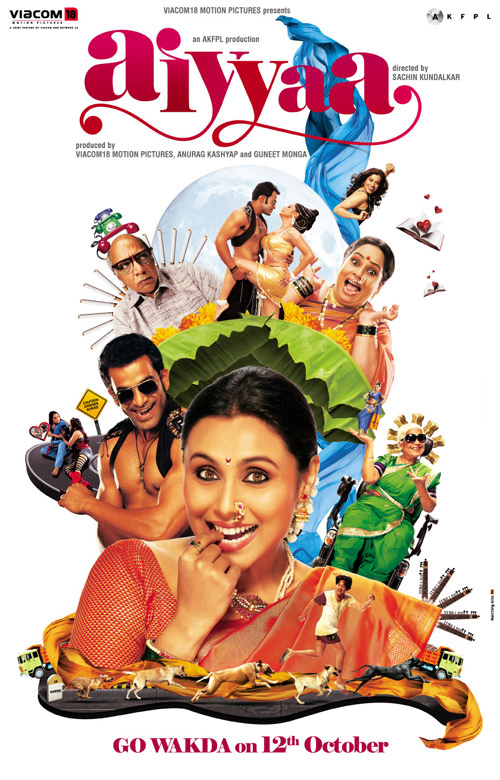 Rani Mukherjee is back with a bang with Aiyyaa, which is wonderful return to form for her in a bubbly and wacky role that fits in perfectly with the heroine-dominated season of 2012. From the hilarious and albeit controversial promo, Aiyyaa looks like a great throwback to 80s masala with some culture clash between the Marathi Meenakshi (Rani Mukherjee) and a hunky Prithviraj as her Southie dream man. The soundtrack was definitely in our most awaited feature, with Amit Trivedi giving his versatile stamp to a Rani Mukherjee heroine film. From the song promos already, Trivedi has us hooked with the addictive "Dreamum Wakeupum" and the witty lavani number "Sava Dollar" which has already cemented a great music director-actress pair.
We start with the wonderful, Dreamum Wakeupum, which start off with those familiar Bappi style disco beats but give way to a loud trombone section, that confirm this as a fabulously noisy track. Amitabh Bhattacharya's lyrics are utterly hilarious and so raucous too, with lines like "Top to baseum kama sutram …sizeum matterum thinkum wonderum, jumpinggum…pumpingum." With lyrics like that then nearly half the job, in sealing it in the bawdy lyrics cannon, is done! Sowmya Rao is brilliant here, especially in drawling those naughty lyrics during the chorus line! She has such a versatile voice during the song and keeps you wanting hear more from her soon! Trivedi makes this such a lasting song, because it balances that kuthu sound with the 80s masala sound so seamlessly. Yet this song definitely has that Trivedi stamp of innovative sounds, using that brass band section in making this his version of a South Indian masala song. Keep this one on repeat!
Next up is Sava Dollar, which is the lavani number that has been capturing the airwaves with its comical treatment of Meenakshi's quest to be a heroine. This tune is a much simpler lavani number, which lets Sunidhi Chauhan indulge in some fun with her imitations of Amitabh Bachchan and Rekha. This one may sound a bit conventional with its smaller arrangements of tabla and dholak in the back, but it allows you to savour the fun interplay between Chauhan and the backup singers. The lyrics are so farcical and playful, and the chorus girls have some of the best verses, which make this a tune lovable especially with the witty video, and Rani's expressions!
Aga Bai opens with a very atmospheric prelude, with Shalmali Kholgade who gives it that extra Marathi pronunciation in the classic part. The song takes quite a different turn into a more electronic fusion track, which adds Monali Thakur to the mix.  The song keeps that vintage sound with the synths and disco beats that pepper the track throughout and alongside the frothy 'Aiyyaa' interludes, which add that extra bit of oomph to the song. This song is certainly a treat on the ears with every interlude revealing its layered and crafted care. The ambient and electronic sound flow together so effortlessly throughout the song that it deserves extra listens! Though both Kholgade and Thakur are quite autotuned, you can definitely make out the differences and appreciate their vocals.
One of my favourites is Mahek Bhi, which opens with such a gorgeous almost 2minute instrumental prelude. These interludes make you appreciate how Trivedi makes every element of his songs lasting and lovingly crafted. This one fuses the shehnaii, clarinet, accordion with a very classical melody that feels straight out of a 1950s film. When Shreya Ghosal comes on, it's an extra treat with her soulful voice that conveys that dreamy feeling of being in love. Ghosal is always reliable in slower songs that make you savour her little nuances and emotions she lends to this song. Again, there are so many elements in this track that keep you hooked to its haunting and beautiful melody. Keep this on repeat.
Another crazy track is What To Do, which immediately wins you over its pun of "Izzat pappad" that sets the tone for the rest of the song. If you thought Dreamum Wakeupum was a tad subtle, this song blows that out of the water! Sneha Khanwalkar and Amitabh Bhattacharya are utterly brilliant here and having so much fun with the rude lines that they've got. The lyrics establish such a saucy chemistry between the two that makes you wonder how this is going to look on the screen. The arrangements are wacky too, with Trivedi tailoring the sounds around the vocals. Definitely one that is bound to divide, the song is just zany enough to win everyone over!
The final track, Wakda is a perfect little Carnatic wedding song that has that signature Trivedi stamp with it. He keeps that South-inspired sound with the use of the morchang along with the mridangam drum, with the nadaswaram, which kicks off a fabulous song. A wedding song that may take a bit of time to grow on you, but just stay for that gorgeous Carnatic electronic fusion during the bridge and throughout that completely works. The song feels so innovative with Trivedi adding his signature stamp to a typical wedding song.  It has a leisurely tempo that allows you to discover the many different elements that just stick with you and you just wish it was just a bit longer!
Aiyyaa is one of the most spirited and hilarious albums in such a long time that lives up to its trailer and wacky style. Each of the songs has something to celebrate and enjoy, and it is often so rare to hear an album so joyous and downright fun. Amit Trivedi was the perfect music director for the job, in creating so many songs that will be likely associated with Rani Mukherjee for years to come. This will definitely be on your most played playlist this week!