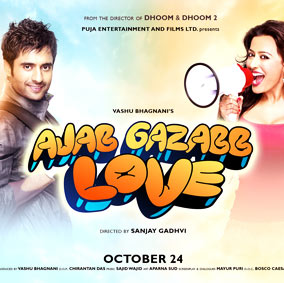 Sanjay Gadhvi branches out into a new genre with Vashu Bhagnani production 'Ajab Gazabb Love' which keeps in line with the style of wholesome family entertainers Puja Entertainment has been known to endorse. The film is the remake of Telugu blockbuster Seema Tapakai. Does the director who delivered his last hit with Dhoom 2 in 2006 succeed in this brand new genre 6 years later? Read on to find out.
Ajab Gazabb Love is definitely an entertainer and a wholesome one at that however still tends to leave you desiring for a bit more. The film is very simple and perhaps a bit too simple and naïve in its inherent writing. To add to that the script tends to remind you of Aneez Bazmee's Ready.
Rajveer (Jackky Bhagnani) falls in love with Madhuri (Nidhi) at first sight however he soon discovers that wooing Madhuri will be harder than expected. Madhuri's serious hatred towards elite rich families forces Rajveer to pretend that he's not the son of a billionaire businessman but rather a small mechanic. Once their love story takes off Madhuri insists on meeting the family. Here on in Rajveer starts becoming entangled in a web of his own lies. He convinces his family to pretend to be poor when Madhuri visits. His parents (Darshan Jariwala and Kirron Kher) are all too happy to go to these great extents for son's love. How the whole façade goes to a whole new level when Nidhi's twin brothers (Arjun Rampal) enter the picture and how the truth is eventually revealed is the crux of AGL's story.
AGL's screenplay utilises a dated formula, which is its biggest negative aspect. Even though the film is only 2 hr 15 mins you still consider it to have dragged in bits especially in the first half. You truly get engrossed only post interval. The first half largely focuses on the lead pair who unfortunately aren't strong enough in screen presence and performance to carry the film alone for such a period. It seems the makers also doubted their ability to carry of the film all alone because once the characters of Darshan Jariwala, Kirron Kher and Arjun Rampal enter you hardly see Jackky and Nidhi.
The film also endorses some quite naïve views such as that on which Madhuri's entire fight against the rich is based. You're not quite sure why she's so stubborn on the matter but she creates an awful lot of ruckus on its basis, that's for sure! Add to that is the sports car lookalike dream car Rajveer and his father are building for the tortured Indian who is stuck in traffic jams.
Don't be surprised if you feel a Rajshri vibe from the film or see yourself revisiting Aneez Bazmee's Ready at the least (which was a louder and crazier Rajshri film in a way). The concept of a whole family coming together in a grand scheme for their beloved son's love story is perhaps not so novel in light of the above mentioned film.
Performances wise, as noted earlier, the lead pair are indeed quite weak in the presence of the killer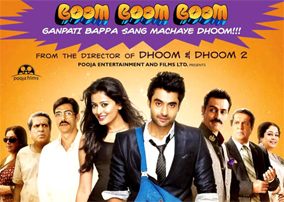 supporting cast. Having said that one cannot take away the performance delivered by Jackky which is highly commendable. He grows with every film and is very confidant onscreen. Sadly his makers only get him to deliver to an extent and never push him beyond certain limits which is obviously stopping him from being noticed. Nidhi Subbaih sadly doesn't impress as much and in fact, for the lack of a better and more appropriate word, is annoying. She doesn't have much to do when the supporting cast enters but in her short presence in the first half overacts to a great extent.
As commendable as Jackky's performance is the fact of the matter is the people who shine in the film are Darshan Jariwala, Kirron Kher and Arjun Rampal. They've each been given such brilliant roles that have a lot of character in them and they execute it excellently. Kirron Kher as the doting melodramatic mother makes you 'aww' at moments and also leaves you in fits of laughter in other scenes. Darshan Jariwala does much the same as the supportive father. Arjun Rampal looks dashing as the older twin brothers. In one role he's a loving brother to his sister and obedient young brother to his twin. His other role has him playing a stern village goon. He masters the accent well and impresses. A large number of his scenes are those in which both twins feature therefore would have been performed in front of no one! To still create those conversations and reactions is quite commendable. Granted the role may remind you of that of his from Houseful. Arshad Warsi is unfortunately forced into a small cameo role that doesn't have much to offer but is still gives you a few laughs.
Music doesn't add to AGL's appeal mostly because they're slotted in an almost too formulistic way. A hero entry song, a dream sequence when they fall in love and another in the second half just because the film had gone on too long without a song. They don't add to the film and in fact take from it.
Gadhvi's attempt to please the family crowd doesn't shine in the manner the audience and he would have hoped. The script doesn't have anything too novel to offer and in addition to that the screenplay and lead pair aren't as impressive as they ought to be when you're trying to impress audiences with a film based essentially on a love story. Film trends are such that releases that can be enjoyed by the entire family are scarce and AGL may just be able to cash in on this scarcity. Don't walk in with expectations of path breaking or flawless cinema and you may just not be too disappointed.