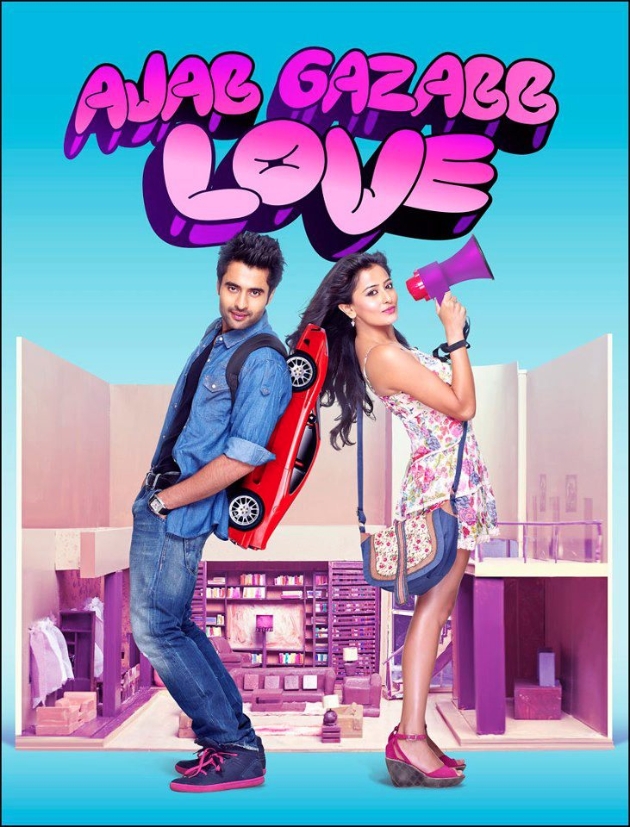 Ajab Gazabb Love, remake of Telugu hit Samna Tapakai, is one of October's promising releases, if one is to go by its fresh and engaging promos. Ajab Gazabb Love marks Jackky Bhagnani's (F.A.L.T.U) third Bollywood outing and Nidhi Subbaiah's (Oh My God) second. Arjun Rampal, Kirron Kher and Darsheel Zariwala make the supporting cast of this romantic/family comic caper.
Sajid-Wajid have been roped in compose for this 4-track album (remixes excluded) while Priya Panchal, Kausar Manir and Sukhjit Thandi have penned the lyrics. Vocal talents featured in the album are that of Mika Singh and Mohit Chauhan amongst others.
Boom Boom (Lip Lock) kick starts the album, a peppy and catchy dance track rendered by the incorrigible Mika Singh. It is moderate to fast paced with trendy techno beats and some English gibberish thrown in for good measure. Mika's energetic rendition of Priya's tongue-in-cheek lyrics rife with innuendo is pretty impressive. If you like 'Subah Hone De' (Desi Boyz) and 'Vacancy' (Golmaal Returns), you will love this track. If the track was not fast enough for you, the remix amps up the tempo and mixes in some complimentary beats as well.  While not overly impressive, it is still listenable.
Next is Tu, a melodious romantic track sung to perfection by none other than Mohit Chauhan. Sajid-Wajid employ a variety of instruments yet still manage to give you a vocally potent number. Munir's well penned lyrics only the make the track more charming.
The romance continues with Sun Soniye, a duet rendered beautifully by Mohammed Irfan and Antara Mitra who embody Munir's flirtatious lyrical back-and-forth well. Sajid-Wajid once again employ a clever blend of instruments, of which the piano and strings reign supreme. The remixed version is relatively decent if you are after a fast paced version of the track but it no longer retains the playful attitude of the original.
The album draws to a close with Nachde Punjabi by Dalvinder Singh.  It is a typical Bhangra number with the tried and tested fusion of Punjabi instruments and urban beats. In other words, it sounds exactly like the 100 other Punjabi dance tracks.
In summary, Ajab Gazabb Love proves to be a decent entertainer regardless of being a mere four-track album. The party-goers would lap by Boom Boom, romantics and soul fans will love Tu and/or Sun Soniye and if Bhangra's your jam then Nachde Punjabi does not disappoint too much. In short, do not be quick to dismiss this one.