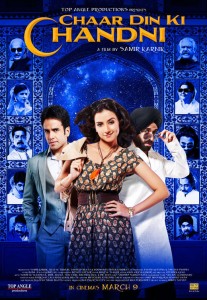 Ajay Devgn, who rarely does any special appearances or any voice overs, will be doing the voice over for the second time in Samir Karnik's Tusshar Kapoor starrer Chaar Din Ki Chandni. Incidentally, the first time he did, was also for Karnik's Yamla Pagla Deewana.
Karnik says, "Ajay Devgn did the voice over for our last film Yamla Pagla Deewana and it turned out to be a hit. I have high regards for him. Ajay has a fabulous voice. He comes in the opening sequence of the film and introduces the characters and setting."
After the success of Yamla Pagla Deewana, Samir Karnik is now ready with his next directorial venture Chaar Din Ki Chandni for release on 8th March 2012. The film stars Tusshar Kapoor, Kulraj Randhawa, Anupam Kher, Om Puri, Johny Lever, Mukul Dev, Anita Raj, Sushant Singh and Chandrachur Singh and others.
The film is produced by Samir Karnik under the banner Top Angle Productions, the co-producer and associate director is Ashish Kathpal. The Story is by Babaji, Lyrics by Sandeep Shrivastav, Music by Sandesh Sandhilya, RDB, Anaya, Shiv Hari, Abhishek Ray and Dr. Zeus. Cinematography is by Kabir Lal, Art Director is Jitendra Kava, Choreographed by Bosco Caesor, the Editor is Mukesh Thakur, action by Analasru, Screenplay and dialogues by Amit Masurkar and Nishant Hada.
Chaar Din Ki Chandni is a comedy laced with romance and is set against the backdrop of Rajasthan at a four-day wedding. A complete family entertainer, it revolves around a Rajput family and a family from Punjab, who are caught in a situation which creates comedy of errors.