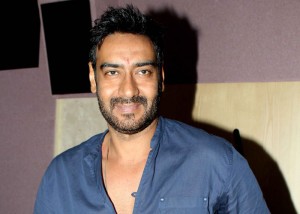 He is known for playing intense roles, but now Ajay Devgn is ready to imitate Bollywood's "Jumping Jack" Jitendra's dance moves in his new film Himmatwala, which is based on the 1983 film of the same name.
"I am ready to do anything, be it action or dance… You can't look at one department, it is a film in totality… I am looking at the whole film right now," says Ajay.
Sajid Khan, director of the new version of Himmatwala said, "Ajay's image is action and intense oriented, but for me, he is a complete hero. He can do anything. Our film is not a take-off on Himmatwala. It's not a spoofy film. It is based on 1983 film Himmatwala and it is my version of it. You will get to see many things which were not there in Himmatwala. Actually, they are two different stories. We have taken rights officially for the film and for the two songs."
Directed by Telugu filmmaker K. Raghavedra, Jitendra and Sridevi-starrer Himmatwala was a super hit film of 1983.
Sajid says Jitendra may do a guest appearance in his film. "I will ask Jitendra-ji to do a cameo in the film."
The film is being co-produced by Vashu Baghnani and UTV Motion Pictures, the film's leading lady is not yet finalised.