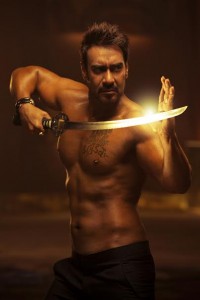 There is some fantastic news for all you Ajay Devgn fans out there.
The Masters of Taekwondo from South Korea – Kukkiwon (World Taekwondo Headquarters) have decided to honour Ajay Devgn with a Dan Black Belt we hear.
The Masters have decided to honor Ajay Devgn for his continuous contribution to action and martial arts in almost all his films.
Ajay Devgn has learnt mix forms of martial arts before, and in fact will also be seen doing sword fighting – a kind of martial arts in his forthcoming film Action Jackson.
A few of the delegates who will be coming for this massive event from South Korea are include Mr. OH Dae Young (General Director), Grand-Master Hwang In SIK (who has done many films with Bruce lee, Jackie chain, etc.), Master Mun Hui Song and Mr. Ko Kwang Mun (Administrator-Kukkiwon).
Well, this is definitely some great news for Ajay and his fans!