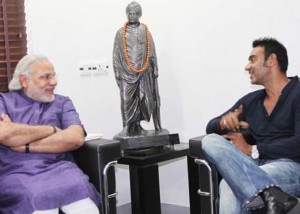 Politics and cinema have had a longstanding relationship in India. And, it seems, our very own action star Ajay Devgn is taking the legacy further.
The Son of Sardaar actor Ajay Devgn will be hosting a Google 'Hangout' session on today at 3pm GMT, where Gujarat Chief Minister Narendra Modi will become the first Indian politician to have a live video-chat with ordinary citizens.
Devgn will play the proud host to the Gujarat Chief Minister in Ahmedabad. The actor who is currently shooting for Sajid Khan's Himmatwala will take a chartered flight to the city to host a bash for Modi.
Narendra Modi has been a trendsetter for Indian Politicos be it governance, development, technology or social media presence. It's the 1st time in India that any politician will connect LIVE with the people directly, and that being anchored by Bollywood's Ajay Devgn.
Other leaders who have held Google 'Hangout' sessions include US President Barack Obama and Australian Prime Minister Julia Gillard.
You can catch Ajay Devgn face to face over Google+ Hangout! TODAY. Simply log on to the following link: http://www.narendramodi.in/category/hang-out/