​
Ajay Devgn's Sons of Sardaar 2 has a very intriguing story and will present an important reference in Indo-British history. We have learned from reliable sources that his Sons Of Sardaar 2 is based on the historic Battle of Saragarhi which was fought before the Tirah Campaign on 12 September 1897 between 21 Sikhs of the 36th Sikh​ Regiment​ (now the 4th Battalion of the Sikh Regiment) of British India, defending an army post, against ​more than ​10,000 Afghan and Orakzai tribesmen. The contingent of the twenty-one Sikhs from the 36th Sikh Regiment​ led by Havildar Ishar Singh. They all chose to fight ​until​ death.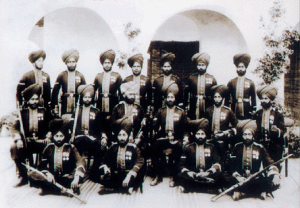 Check out these facts associated with the Battle of Saragarhi
​This famous ​battle occurred in the North-West Frontier Province, which formed part of British India​ in the late 1800s​ and is considered by some military historians as one of history's great last-stands. In fact, The Battle at Saragarhi is one of eight stories of collective bravery published by UNESCO (United Nations Educational, Scientific and Cultural Organization). It has been mentioned as one of the five most significant events of its kind in the world which includes the Battle of Thermopylae associated with the heroic stand of a small Greek force against the mighty Persian Army of Xerxes I in 480 B.C.
There are several myths around larger than life the actual battle of Saragarhi. ​The epic poem "Khalsa Bahadur" is in memory of the Sikhs who died at Sargarhi.​ Punjabi literature resounds of the bravado of the 21 Sikhs who fought until death instead of ​surrendering ​to the Afghans.
To commemorate the men the British built two Saragarhi Gurudwaras: one in Amritsar very close to the main entrance of the Golden Temple, and another in Ferozepur Cantonment, which was the district that most of the men hailed from.
Saragarhi Day, is a Sikh military commemoration day celebrated on 12 September every year to commemorate The Battle of Saragarhi. Sikh military personnel and Sikh non-military people commemorate the battle around the World every year on 12 September. All units of the Sikh Regiment celebrate Saragarhi Day every year as the Regimental Battle Honours Day.
With Son of Sardaar 2, Bollywood will see a film at International scale on one of the bravest battles in history. In fact, the ambitious magnum-opus is being touted to be on the lines of Hollywood historical action thrillers and we can't wait to watch it on the silver screen!​
Currently Devgn is preparing for his directorial venture Shivaay​,​ that is going on the floor this December, he then he will start shooting for Son O​f​ Sardaar 2 ​which ​will ​be ​release​d​ ​o​n Diwali 2017. ​
Stay tuned for more!