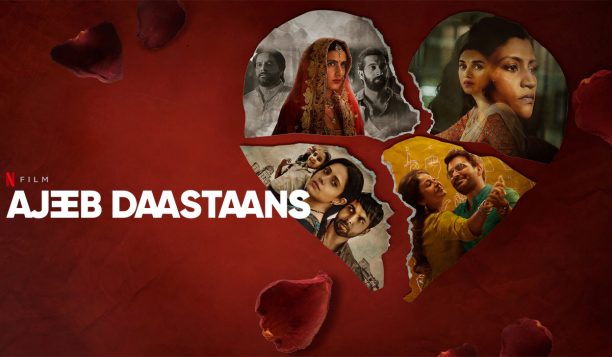 Ajeeb Dastaans(Netflix)
Starring Jaideep Ahlawat, Fatima Sana Sheikh, Konkona Sen Sharma, Nusrat Bharucha,Abhishek Bannerjee, Inayat Verma, Shefali Shah, Pavan Kaul
Directed by Shashank Khaitan, Raj Mehta, Neeraj Ghaywan, and Kayoze Irani
This is a diverse provocative(sometimes too consciously so) bouquet of stories of four women in search of an emotional and physical fulfillment that eludes them because…well, they have obligations. Don't we all!
Uneven in quality, some of the plotting conceits verge on the absurd. To begin with, let's take the first story Majnu directed by Shashank Khaitan. It is a passionless passion-tale about a marriage of convenience between a moneyed dangerous criminal Babloo(Jaideep Ahlawat) and Lipashi(Fatima Sana Sheikh). The film opens with one of Babloo's henchman making a preposterous pass at his Bhabhaiji, and never recovers its equilibrium.
Once the self-consciously handsome Raj(Armaan Ralhan) enters the couple's loveless marriage the lustrous levels of lust in the story overpowers all logic. The ever-dependable Ahlawat struggles to give dignity to his character of a goon with a dark secret. But when the revelation comes his emotions are demonstrated with such embarrassing irony as to make the mood of the story seem facetious rather than tragic. By the time the goon's wife announces her pregnancy the story's credibility level is long aborted.
The second story Khilauna directed by Raj Mehta is a sly pro-capitalism drama where a househelp Meenal(Nusrat Bharucha, a revelation) uses all her charms to make her way through the world of the privileged(who are not awful exploiters but still awful enough) with her kid-sister(the amazing Inayat Verma from Ludo).The impetuous mood of the story comes to a grinding halt with a bizarre macabre distasteful twist in the tale. Without revealing anything I would just like to say that after seeing this story we can never look at a pressure cooker the same way. The performances of Bharucha, Inayat and Abhishek Bannerjee as Barucha's stree-wala silent lover are first-rate. For not showing the downtrodden as perpetual victims this story deserves a special mention.
However, the third story overpowers all the rest. Geeli Puchchi (wet kisses) is so heads and shoulders above the other three segments that it seems like the centerpiece of the anthology (which it is) with the rest as serving as space fillers. Neeraj Ghaywan whose only feature film Masaan so far is a class act on socio-economic discrimination, goes deep into the theme in just over 30 minutes of playing time.
Ghaywan has the ever-reliable Konkona Sen Sharma giving a magnificently layered performance as a Dalit, working woman in a factory whose job and respectability are threatened when a prettier, upper-caste fair skinned all-feminine woman Abha(Aditi Rao) joins in. The unlikely friendship between the two women never reaches where we think it would. Ghaywan and his writers are constantly ahead of the audience, creating a kind of playful yet sinister and tragic dynamic between the two women from completely diverse backgrounds. Just when we think we have their relationship figured out, the narrative does a somersault which refuses to make the Dalit woman Bharati Mandal a martyr. Why should the underdog always remain buried under the heap of broken dreams?
Geeli Puchchi is a miniature masterpiece with a central performance that is hard to put aside. Among its many prominent virtues try this: Abha's husband is no cad providing an alibi for her meandering heart. He is a caring man who even cooks for her. As she confides guiltily in her new friend Bharti Mandal, "Shiv bachche ki soch raha hai aur main ussey pyar bhi nahin karti." Having someone love you is not reason enough to love that person back. Geeli Puchchi is filled with an aching passion and a bridled wisdom.
Finally, another disappointment. Kayoze Irani's Ankahee has a terrific plot premise behind it. A sophisticated urban mother Natasha trying to cope with her teenaged daughter's impending deafness with no help from her husband(Tota Roy Choudhary). And when that woman of substance is played by the amazing Shefali Shah, we expect fireworks. Sadly the flame dies out the minute Natasha meets Rohan(Manav Kaul), a deaf and mute photographer with whom she proceeds to communicate passionately in sign language. I don't know how they say , 'Let's sleep together' in sign language. But that's where the two end up in the progressively absurd arthouse entry that goes horribly wrong.
Ajeeb Dastaans has its near-fatal flaws. Some of the twists and turns fail to carry us with them. But the anthology never fails to be interesting even in its absurdest interludes. And Neeraj Ghaywan makes us overlook the cracks and crevices in the other stories. One geeli puchchi for the team.