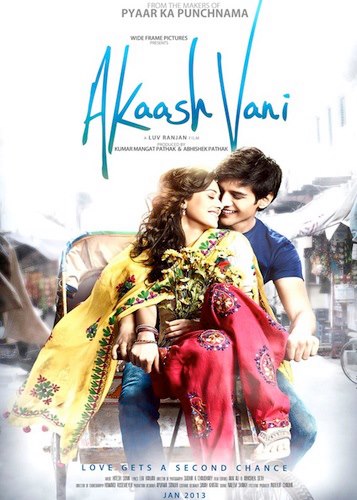 Luv Ranjan's debut directorial Pyaar ka Punchnama was the male version of a young love story that featured a completely new star cast. The film did unexpectedly well and provided the newbies with the great recognition. Luv Ranjan's next film, the subject of our review Akaash Vani, sees Luv Ranjan showcasing stars Kartik Tiwari and Nushrat Bharucha once again in the lead roles. Was this the next perfect step? Read on to find out!
Akaash Vani is the story of the Chandigarh boy Akaash (Kartik Tiwari) and the Dehradun girl Vani (Nushrat Bharucha) who meet in St. Stephens college in Delhi and get along instantly. Vani is the traditional girl and her morals lie in respecting her parents' decision, irrespective of what she wants. This acceptance of receiving what she has been given and not speaking up for herself leads to a lot of the troubles that she faces. Akaash is the bindaas Chandigarh da munda, whose life takes a completely new turn when he falls in love with the subtle and soft Vani. Their relationship kickstarts like a fairytale. Three years pass by in college and they have their two friends Ravi (Kiran Kumar) and Sumbul (Sana Shaikh) to support their romance. But then Akaash goes to UK for his studies and Vani returns home. Once there she finds out her fate has something different in store for her, which is getting married to someone else. What happens? Well you will have to see the movie to learn if Akaash and Vani get their happily ever after!
Coming to performances, Kartik and Nushrat have to be given credit for being completely perfect for their respective characters. Nushrat plays an earnest and sober girl, which is very different from her character in Pyaar ka Punchnama, where she played a nagging and dominating girlfriend. Everything about Vani from her lighteyed expressions to her wide smile makes one fall in love with her. Kartik has done a brilliant job as Akaash, going from the completely crazy boy in the beginning of the film to the much sober and responsible man, who will not let go off the love of his life. He has an adorable thing about him with the way he looks at Vani, evidently head over heels about her. The emotional connection that Akaash and Vani have is beyond just a college romance, and the duo has pulled it off very well. Kiran and Sana have played the perfect best friends in the supporting cast, who stand by Akaash and Vani at every step and play a pivotal role in the film.
The most disappointing factor about the film is its length which is 149 minutes and is too long for something as predictable a story as this one. Some scenes make you melt and feel like falling in love, while some of them are repeat too much and stretched to a point where one feels, "Why this again?" The songs in the movie are not so great either, but some of them have been picturized quite well, especially the song 'Bas Main Aur Tu'. The art direction of the film is amazing and has some really breath-taking scenes which look straight out of beautiful imagination, making one go Wow!
Akaash Vani is a blend of perfect moments and at the same time it could have been done in a different and less predictable way, keeping the time constraints that the audience has these days. But no doubt, it is definitely worth a watch for the oh-so cute chemistry, the setting of the iflm and awesome duo Kartik and Nushrat.