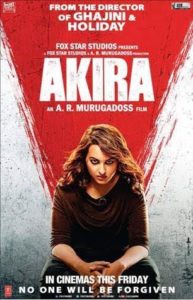 How do you begin a review of a film like Akira? It's a remake of a Tamil film in the hands of A.R.Murugadoss. Yes. It has Sonakshi Sinha in her first ever full blown action role. Yes. Vishal and Shekhar set the tunes for the first time with ARM. Yes. So what makes Akira different? Well, it's yet another sample the Bollywood audience is opening up to new films and directors are sitting up and taking note. Santha Kumar's original script was written with a male lead, a romance angle and a complex screenplay that blew you away. Akira stands out despite being a remake because of the masterstroke in ARM's additional screenplay and judgement call on changing the gender of its lead actor. It is still very much a commercial film but where it takes away the extra masala you would see in most films, you are given a new facet to reflect today's women and society itself.
Akira is the story of a simple girl, trying to adjust to her new life in Mumbai until she goes through some pretty extraordinary circumstances. Starting in Jodhpur, Akira is the witness of very cruel, very real crime. However, when she faces the backlash of testifying, her father takes her to self-defense classes and teaches her to be strong. The strength she builds is not only physical but emotional as well. But you don't get to thrash an influential individual scumbag son without repercussions. It is only after being released from the remand home that her true litmus test comes. And that too in Mumbai city.
Enter ACP Govind Rane (Anurag Kashyap) and gang of corrupt cops. What started out as a simple act of greed in an opportunistic situation, turns into a whirlwind of lies, cover ups and murder, with Akira falling smack-bang in the middle. But Akira is not giving up. How she fights for the truth and to get her life back forms the story.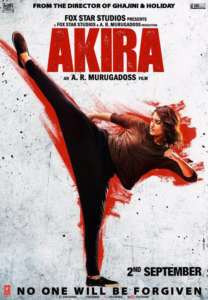 The film proves that as a story, you can remodel a film to suit a different audience and yet stand ground on its own film. The story of the wrongfully accused isn't new but the temperament is a great mix of fantasy and reality. It is sad to say that the judgement people make regarding individuals with mental health issues is far from compassionate. Add in the police brutality that overshadows so many hard working men and women, and you see a slice of life. Then comes the conveniently placed fantasy. A highly sedated Akira thrashing the bejeezus out of security guards? A well-known in the media case closed for the purpose of avoiding a goonda's wrath? A little curve ball-ish but when the audience is clapping for Sonakshi to stand up again, you know the cinematic liberties are doing a decent job at entertaining at least.
ARM's choice to change the lead is one that has to be applauded since today's women are strong, both physically and emotionally. The scene where Sonakshi hides for fear of thrashing her college bully's gang is a stroke of genius. After all, why would a "girl" fight back? Even if it's a girl that's bullying her. R.D. Rajasekhar's cinematography is real in Mumbai and brings out the mood naturally. A. Sreekar Prasad has done a decent job with editing, especially since there is no song and dance routine and most songs playing over story time. Vishal-Shekhar have taken steps away from their 'Baby Ko Bass Pasand Hai' tunes and it works well for what it's worth.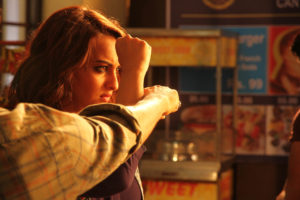 Now comes my favourite part. The lady of the minute, Sonakshi Sinha. Wow. There has been many mentions the actress was being whimsical with her choices and playing the damsel too often. But her performance in Akira is just marvelous. There seem to be a little struggle as a fighter (Action by Anl Arasu) initially, but she picks up the pace quickly. From playing on the femininity and being sensible to engulfing her foes in rage, she is AKIRA!
Even her younger version Mishilekka Arora is strong in short screen time. I have pretty much only one word for Anurag Kashyap. Sensational! Why have we not seen him on screen before, we will never know. But for the love of all things cinema, I hope we see him more often. The actors playing the corrupt cops are adequate support but Anurag just takes over with his oh-so-enjoyable creepy cop.
Konkona Sen Sharma plays Rabiya CP Crime Branch to the tee. She is silently confident but is shrewd. The concept that the police are always way behind the criminals is broken with her investigation. The cat-and-mouse game to finding the truth is depicted in true ARM style as he keeps close to the original but makes enough changes to keep the audience engaged. Amit Sadh doesn't really have much of a role as the friend/love interest. It's only at the end credits you see they are together. Ankita Karan Patel underplays but also has little to do, even though she plays a catalyst. Raai Laxmi is apt as Maya. The rest fall into place.
So without doing too much chest pounding and with a perfect choice in lead, Akira is not without flaws but still leaves you engaged, enraged and entertained.