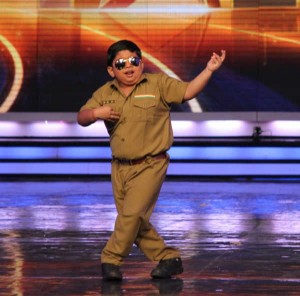 India's Got Talent contestant Akshat Singh appeared at "The Ellen Show" last Monday after captivating Indian audience with his performance at the Indian reality show.
The popular talk show, which usually includes international celebrities as guests, invited the 8-year-old star to perform at the show, becoming the first non-celebrity Indian to appear in "The Ellen Show".
Dresses as a small replica of inspector Chulbul Pandey as he did at his performance in IGT, Akshat wowed the audience with his amazing agility and showcased some of his signature moves, including breakdance, backflips, splits, pelvic moves and much more. Although he was not allowed to use the same track that he used on his first performance, he displayed the same passion and confidence that earned him the ovation of the judges in the Indian reality show and has turned him into an overnight internet sensation.
Although his understanding of English was limited, the little star showcased great doses of charisma. When Ellen asked him about the prospect of winning the semi-finals, Akshat replied, "I've gone to India's Got Talent to show that "motus" [chubby people] can also dance. I dance every day for three hours, and I eat more," remark that made the audience burst into laughter. He added in Hindi, "If there's no gas in the car, how will the car run?"
Ellen gave Akshat a flashy toy motorcycle with his name bejewelled on the front along with the request to use it on his next performance at India's Got Talent.
Described as chubby and portly by many, little Akshat has shown everyone that size does not matter when it comes to talent and enthusiasm.
Actress Malaika Arora Khan, one of the judges on the show, shared her surprise and support to the little star. "This is unbelievable! I am very happy to hear that young Akshat has been invited to be a part of 'The Ellen DeGeneres Show' in Los Angeles," she said. She added, "Watching him perform on the 'India's Got Talent' stage has been a visual treat because he has a personality which brightens your day and brings a smile to your face." Malaika also wished Akshat "all the luck for his stint on the show".
"I am sure he will be able to impress international audiences the way he has managed to floor us. I am very happy for him," she said.
Akshat first attracted people's attention with a home-made video posted by his family on YouTube, where he showcased his talent for dance in his underwear.
Check out his segment on Ellen
His performance on IGT