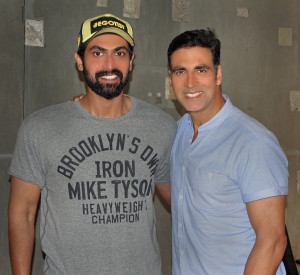 Akshay Kumar and Rana Daggubati come together this time to present an exciting new Telugu feature film entitled Poster Boyz. With an all new cast and crew 'Poster Boyz' will be made under the prestigious banners of 'Cape of Good Films' and 'Suresh Productions'.
A huge fan of Telugu films Akshay Kumar said, "Rana and I have been good friends since Baby and I have been aware that Telugu cine-goers always appreciate entertainment driven films. That's why I and Rana decided to put together a horse power entertainer called Poster Boyz in Telugu." 
Having won the prestigious National Award with his very first film as a producer, Rana Daggubati said, "As a filmmaker, I've always wanted to make high concept films in multiple genres. Teaming up with Akshay Kumar to produce Poster Boyz is the perfect opportunity to ensure that films of this nature are made well and accepted by maximum audiences."
Poster Boyz, presented by Akshay Kumar and Rana Daggubati is a remake of a Marathi super-hit film, and will be directed by Gopi Ganesh, dialogues by Darling Swamy, and will have Viren Thambidorai as the executive producer.
Poster Boyz aims to provide young actors, technicians and professionals with a brand new opportunity to establish themselves. Shooting for the film starts in September 2015 onwards and AUDITIONS for actors began from the 6th of August at Ramanaidu Studios.