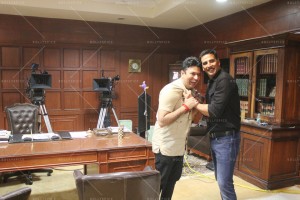 Producer Bhushan Kumar recently visited the sets of Neeraj Pandey's thriller BABY starring Akshay Kumar on locale in Delhi. Akshay who is known for his action stunts was describing and enacting a particular scene to Bhushan, when he hear that he also suggested and insisted to Bhushan Kumar to do a cameo in the movie himself!!
But Bhushan Kumar politely said no and jokingly said that he was better off as a Producer!!
Gulshan Kumar Presents BABY, A Crouching Tiger and Friday Filmworks Production, Directed by Neeraj Pandey, Produced by Bhushan Kumar, Krishan Kumar, Shital Bhatia, Cape of Good Films & Crouching Tiger releasing on 23rd Jan, 2015.