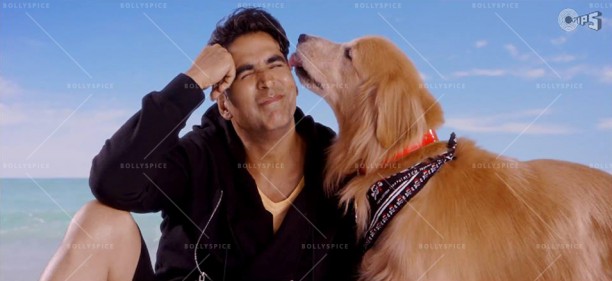 It seems that the cute canine, Junior, who plays Entertainment in the upcoming comedy film of the same name, has found a new admirer in superstar and co-star, Akshay Kumar. Whilst working with Junior inspired newcomer Tamanaah Bhatia to become a dog owner herself, Akshay Kumar was also hugely impressed by the talented golden retriever's abilities.
The Khiladi star, who leads the cast in what is set to be the comedy of the year, and Director duo Sajid-Farhad, auditioned 50 dogs for the role, identifying Junior as the one, because it was felt his eyes were able to powerfully convey the right emotions. In fact, Junior was so impressive, he was accepted on his very first take! Akshay complimented his canine co-star, adding that his chemistry with Junior was better than with anyone else! Working with Junior also conjured up a nostalgic moment for Akshay, who recalled how he welcomed the Kumar family's first dog after his son Aarav was born.
Akshay Kumar excels in this off-centre romantic-comedy film as a down-on-his-luck man 'Akhil', who thinks his fortunes have changed when he hears that a recently deceased relative has left him a large property and a considerable sum of money. But the one thing standing between him and the 'moolah' is a sweet but savvy golden retriever named Entertainment, who also has a claim to the spoils. What ensues is a hilarious game of wits, as Akhil tries to outsmart the lovable Entertainment and lay his hands on the fortune. Vivacious newcomer Tamanaah Bhatia plays Akshay's leading lady in the film.
Entertainment will release worldwide on 8th August 2014.