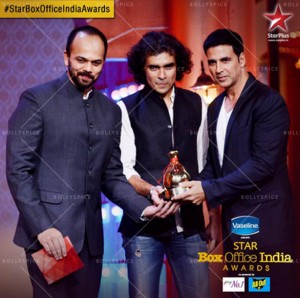 Akshay Kumar has been given the 'Box Office 1000 Crore Hero' award at the 'Star Box Office India Awards', the first ceremony of its kind. 'The Box Office 1000 Crore Hero' award has been given to Akshay to celebrate his collection of over Rs 1000 Crore at the domestic box office over the past five years. For those unfamiliar with the currency, 1000 Crore equates to approximately 100 million Pounds Sterling or 160 million US Dollars!
Whilst a prestigious award to receive, it's hardly surprising for Akshay to be awarded it, given that films such as Holiday – A Soldier Is Never Off Duty, Housefull 2 and Rowdy Rahore have put him into the 100 Crore Club three times.
'The Box Office 1000 Crore Hero' award can be seen as truly indicative of Akshay's superstar status and the global fan base he has.
Akshay hopes to follow on his recent success with his latest film, The Shaukeens, which is due to be released on 7th November 2014.