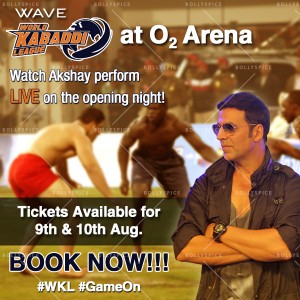 After captivating fans globally with his inimitable stage performances for over two decades, actor extraordinaire and all-round A-list performer Akshay Kumar will set a new personal best on Saturday, 9th August 2014, when he performs on stage for an astounding 500th time. This impressive milestone will take place at the inaugural show to open the first international World Kabaddi League (WKL) tournament at the iconic landmark, London's O2 Arena.
Akshay Kumar, who is a fan of the sport of Kabaddi and recently bought the team, 'Khalsa Warriors', will also be in London attending the premiere of his upcoming romantic-comedy Entertainment, taking place at IMAX Cinema – Science Museum on Friday 8th August 2014.
Within the entertainment fraternity, the international superstar's performances are one of the most anticipated at any event. He never fails to impress with his charismatic stage presence and brings his own individuality and flair to all his power-packed performances. This time it is London that will get to see him work his magic, as fans wait with bated breath for this once-in-a-lifetime opportunity to see Akshay Kumar's 500th stage performance.
For your chance to attend the once-in-a-lifetime opportunity to see Akshay Kumar's 500th performance live, book tickets for the World Kabaddi League, taking place this Saturday, 9th August 2014 at London's O2 Arena, by clicking here #Akshay500