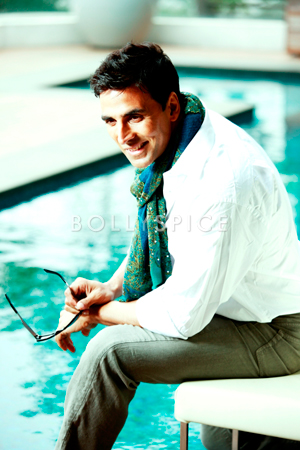 Bollywood brought in the Indian Festival of Lights with style this year and one of the much talked about Diwali celebrations of the year was the all-star party hosted by superstar Akshay Kumar.
Akshay Kumar, along with his stunning wife Twinkle Khanna, hosted a pre-Diwali bash to celebrate the propitious festival with a grand card party at midnight at his plush Mumbai residence. In attendance were close friends such as Sonakshi Sinha, Ekta Kapoor and Karan Johar.
Akshay indeed turned out to be a Khiladi at the card games as he embraced his winning streak, winning lots of money alongside his lady luck, Twinkle Khanna.
However, family man Akshay set aside special time for his wife and children at the advent of the festive season. Akshay began the celebrations by staging a spectacular fireworks display for his children in his garden.
Not one to forget his adoring fans across the world, the action man actor sent a sweet tweet: "Enjoying a Happy Diwali in my garden with all my kids & everyone else's too! May you all have a night as magical as mine!"
Having successfully acted in over 125 films, Akshay has reached the top of the cinematic ladder several times including with his latest release Boss. The culmination of a prosperous year came for Akshay during Diwali, seen as one of the most auspicious festivals in the Hindu calendar.
Imbibing the festive spirit the kind-hearted Akshay sent out an inspirational message to all his fans saying, "This Diwali, light some diyas, eat some sweets and if you have a little extra, light up someone's life and spread some smiles. Wishing you all a very happy Diwali."