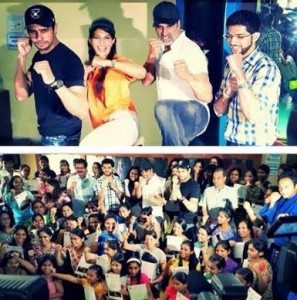 Akshay Kumar is known for his love of martial arts skills and techniques and the actor has never stopped entertaining us with it. The actor was recently spotted at an awards ceremony held for his martial arts academy, which provides free self-defence training to women of all age groups so that they are well equipped with the right skills to protect themselves. The academy was launched by Akshay Kumar along with Aditya Thackeray in 2014.
What really caught everyone's attention was Akshay Kumar's arrival on a bike with his bodyguard riding it. With the star making an entry in this unconventional way, the students and the media tried to photograph the star on his bike. That is when a photographer fell down and Akshay Kumar decided to get off from his bike and help the journalist.
Akshay Kumar was later joined by Aaditya Thackeray. The duo were then seen evaluating the developments of the under-construction sports stadium, where the academy conducts its classes. Akshay Kumar later attended the award ceremony and congratulated the women who achieved the degree in martial arts.
The Bollywood Superstar has previously expressed his love for Martial Arts saying "Martial arts is a way of life for me. It has changed everything for me. It has given me more than anything else has. This is why I try to spread awareness about it. Martial arts isn't just a sport, it's something that can inculcate so many life-changing qualities in you. I want every child in India to experience it."
The Airlift actor was later seen posing with the students at the academy too!