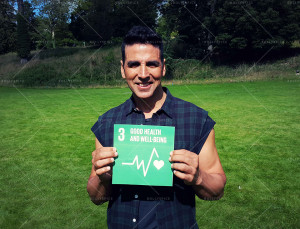 Bollywood superstar Akshay Kumar is on a mission to help drought-affected, poverty-stricken farmers in India. The generous actor and philanthropist recently donated the substantial sum of Rs. 50 Lakh to the flagship water conservation scheme, 'Jal Yukta Shivar', an initiative established by the Chief Minister of Maharashtra. The scheme, promoted vigorously by the CM, envisages constructing ponds on farms for water harvesting, and so making villages 'drought-proof'.
Akshay Kumar is so passionate about the cause that last month the star went up on stage after a fashion show in Delhi to request guests to donate for the cause. Apart from this, Akshay has got in touch with banks in some of the drought affected areas to draw up a list of farmers struggling with repayment of loans, as he is keen to settle the debt of farmers without their knowledge.
Even last month Akshay Kumar donated Rs. 90 Lakh to drought-stricken Maharashtra farmers. Many farmers' lives were devastated because of the recent drought in Maharashtra when the official crop, the Kharif crop, was completely destroyed. The drought occurred because of inadequate monsoon rains in Maharashtra.
When asked about his charity, Akshay simply said, "It is a matter of concern, and I just hope more and more people get involved with this cause."
Maharashtra Chief Minister Devendra Fadnavis thanked the actor for his contribution to 'Jal Yukta Shivar' in an official statement.
Akshay Kumar also supports the Global Goals campaign as an international champion which aims to raise awareness of the new Global Goals For Sustainable Development that were signed by 193 world leaders in September. If the goals are met, we could eradicate global poverty, reduce inequalities and tackle climate change by 2030.