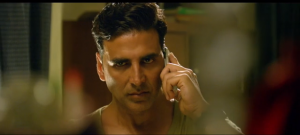 In theaters worldwide on June 6th is Holiday: A Soldier Is Never Off Duty starring the one and only Khiladi Akshay Kumar. The actor, in his killer cool action avatar, teamed up with Ghajini director A.R. Murugadoss for a film Kumar calls an intelligent gripping thriller. Holiday tells the tale of Virat Bakshi, a DIA, (Defense Intelligent Agent) for the Indian Army who, when coming back from a Holiday, is embroiled in a battle against a sleeper cell terrorist group that has plans to conduct a terror attack on Mumbai. What happens and how Akshay fights to save the city, well you know you have to wait and watch the film on the big screen! But we do have some inside scoop just for you from the star himself!
We caught up with the actor while he was on location in Istanbul to talk all things Holiday! Read on to find out what Mr. Kumar had to say about the intriguing story, the wonderful director, the real and very cool action, the fun Sonakshi Sinha and more in our fabulous conversation!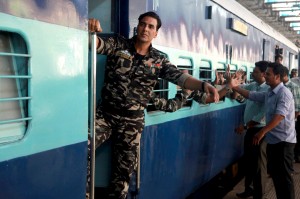 What was it about this film and role that made you want to do the film?
I had read the script a long time back. You know, my director, Murugadoss, he told me only half of the script, he only narrated it to the interval and that was it. I was so eager about what was going to happen… When you see the movie you will realize why I was so hooked and why I wanted to know more of what happens after the interval. Twice he came to meet me and twice he only told me the story until there… I told him whatever you are going to make it be after the interval, whatever your screenplay is going to be I am doing this movie. Because it brings you to a certain point that you want to know what is going to happen and that is really what got me excited initially. Another thing that got me excited was that it deals with a different kind of terrorism. It is not that terrorism that we always watch in a lot of movies, this one deals with sleeper cells. It will educate a lot of people about these sleeper cells because I don't think many people know what sleeper cells are. The director did so much preparation and study about it and he put that across in this film. That is what excited me about the film and I said I am going to do this movie absolutely.
So, how did you prepare to play your character?
Well, I don't prepare much… As I told you my director Murugadoss had done so much homework. so much so that actually he doesn't allow you to prepare. All he said was just be physically fit and look like an army man, be an army man, think like an army guy and that is it, you are all set. Don't try and get information, don't try and Google sleeper cells or anything. Please don't do that. Don't try and do too much homework – it is bad for health and bad for acting. Just be yourself, that's it and come like that. I have prepared everything for you. He told me everything. I didn't have to do anything. He is the kind of director who personally does so much homework before he comes to you. You know he makes the movie so logical and so believable that there are hardly any questions to ask him like, why and how is it possible that this person can do so much. That is what I love about that man he is very good at his job… at his craft.
Do you think he brought out something different in you as an actor?
Well, as an actor he gave me a different kind of a script, which I don't think anybody in Hindi cinema has ever touched at all. I have played an army guy so for this one it was easy for me to just blend into it.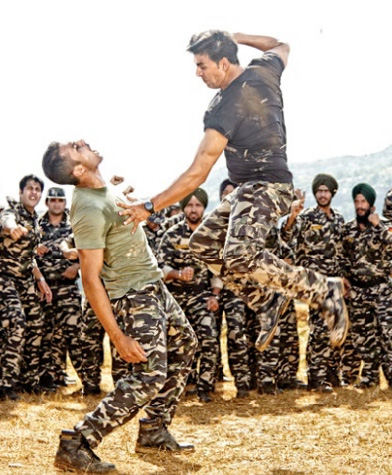 This has some amazing stunts by Greg Powell who did work on Skyfall, the Harry Potter movies, what was it like to work with him?
With Greg, I absolutely enjoyed it. He is an amazing stunt director. He actually helped me. Do you know, he actually taught me how to even hold a gun properly. You know for the shot we just hold the gun for the sake of holding a gun and actually there is a proper way to hold a gun and a way to go around shooting. I have been doing and watching Hindi cinema for so long now but I actually realized that after I met Greg, that we all have been holding the gun wrong. There is a proper way. I must say that Greg Powell and his team of stuntmen were, in my eyes, absolutely brilliant from their discipline to their style and not to mention their incredible talent. It was absolutely beyond refreshing to work with them.
One of my favorite sequences in the whole film is the gunfight we shot in an old abandoned kitchen – when you watch the movie you will see it. There is no fancy trickery or special effects in it because he hates it. It is just me and the fighters and hand to hand combat in a closed environment. It's raw and very real.
That must have been hard but also fun to shoot.
It was fun but more, and more than fun it was a learning experience.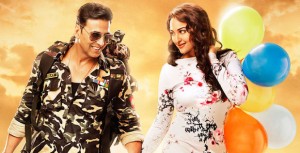 You are starring with Sonakshi Sinha again, you guys have a really great film connection on screen…
It has always been a pleasure to work with Sonakshi. I have done I think about three films with her. I have so much fun working with her. She is more like us boys. I never felt like I am talking to a lady there. (Laughs) We just had so much fun working with each other on this movie also. It is always so easy when you know your co-star and you have worked with your co-star for so many films. Your job is half done because you know the person so well and so the chemistry is there then, you don't have to work on that part because it comes naturally. It was great working with her.
The music by Pritam is great; do you have a favorite song?
Well, I like 'Shayraana', it is a good song. It is a very melodious song. Pritam is always known for his melodies. He sticks to the melody a lot, he doesn't come out of it and that is his great power for music. Time and time again he has proven himself so much. I also like the fact that he takes risks, like for example 'Blame The Night' it is a different kind of music, which he has tried to give.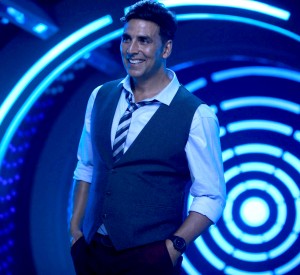 Is it different to shoot like a music sequence compared to an action sequence compared to a scene?
A music sequence? (You can hear the smile) Well, I have done about 130 films by now and in every film I have done about six so multiply that by 130 and so that comes up to somewhere about 800 songs by now. (Laughs)
So you have got it…
(Laughs) Well, no I wouldn't say that…(laughs) You know it does keep on changing, every year it keeps on changing because the audience wants to feel it a different way, the want to see and feel different music compositions, see different ways of shooting music videos so it keeps on changing. I wouldn't say I hit the nail and I know everything about it now because it is just like our iPad it keeps on changing and then changing again every year. We are never with the technology. We think we got a great technology at home but the next day it becomes stale. It is the same here with this.
Do you still get nervous before a film?
Yes, especially I get nervous when I start a new film because I am entering into a new character. That makes me feel nervous for at least about 2 to 3 days because it is very difficult to get into a character, which has just started. Even if you know it and even like I said if you play a cop, and I have played so many times a different kind of cop, I have played a Mumbai cop, but still I will always feel nervous about it because it is for this film a new character which I am entering, it is a new world. So it is not that easy but after that, once you are into it once you have shot for about 4 shifts or 4 days you feel good and you feel comfortable.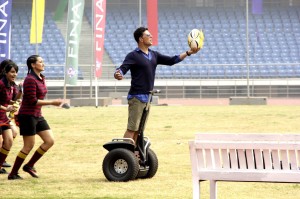 What do you love about making movies and being an actor?
What do I love about making movies? (You can hear the smile again). I love that I get to play so many characters. I love the fact that they take me to such beautiful places like Istanbul. I am here just now and I can't even tell you, while I am talking to you, it is such a great view outside – it is just beautiful.  I love that you get to meet and work with such great people, great technicians like Greg Powell and great cinematographers. And people like Mr. Bachchan and all the actors who are working and who have made themselves from Dilip Kumar Saab to Manoj Kumar to everybody; that is just so amazing and great.
What are audiences going to love about Holiday?
I hope that they like the honesty of the film. I have seen the film and I can just say that the movie has lots of logic and it's very gripping and you have to use your mind while watching it. It definitely is not a film where you can come and just watch it and laze around – it really keeps you on the edge. You have to think what is happening because here we are dealing with one of the biggest forms of terrorists and it cannot be child's play. There is a lot of thinking, there is a lot of homework behind it. All this is why I think people are going to like it.

A message to you fans?
A lot of times I say: Believing in God is living life with confidence.
What do you think of Hindi cinema today?
I think Hindi cinema is changing drastically and very fast. Sometimes it is so scary because you hear a script today and you give your dates after about 8 months and then the movie starts on that 8 month and then you feel that it is so stale now. You should have actually started the movie then when you heard the script. So, it is very scary because things are moving very fast and the audiences' tastes are changing. Earlier it used to be you would have a flavor of decades, now it is just flavor of months or even weeks. It just changes and so we have to be on our toes. We have to run much faster.
So what is coming up next?
I have It's Entertainment. Then also coming is my own production Fugly, which you will have to wait and watch and see the film. Fugly is ugly things that happens in your surroundings. It talks about how the youth sees the fugly things, these ugly things and what happens with them. It is basically a true story.
Akshay Kumar is truly one of our favorite stars to interview. We would like to thank him once again for the wonderful chat!
Be sure to go see Akshay do what he does best in Holiday: A Soldier is Never Off Duty. From what we can tell this will be an edge of your seat emotional gripping ride at the movies!