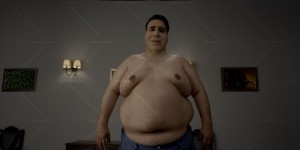 Farhad-Sajid's
Entertainment
recently released and has fared very well at the box office. The film gives a message in the end on how you should love your pets and take care of them. Though they cannot speak but they understand what we feel.
In the film Entertainment, Akshay Kumar plays a role of son who does odd jobs to take care of his ailing father and pay his medical bills, which turns out something else later on.
But for one of the sequences Director duo Farhad-Sajid made the fittest actor of B-Town Akshay Kumar go from fit to fat. We hear the actor took almost 4-5 hours to put the prosthetic s and look like the perfect heavy man.
Well! so now we know how our fittest actor Akshay would really look if he every let go off his diet.. lol