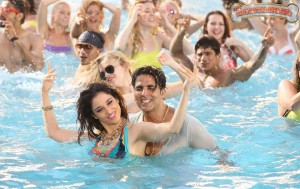 Writer turned Director Farhad-Sajid are all set to make their directorial debut with It's Entertainment starring Akshay Kumar & Tammannah!
The first song from the film which had recently been released has crossed 4 Million hits online! The song has a spunk to it and is becoming popular amongst the masses and the kids specially.
The song which is based on a very popular nursery rhyme has Akki lip-synching to a female's voice in a fun avatar. He will be seen singing some hilarious lines like 'Maine pe nahiii', 'haanji main peela di gayi'.
The lines are extremely catchy and the grooving music has taken the song to a different level all together. When we quizzed the directors Farhad-Sajid about deliberately making play back singer Priya sing for Akshay Kumar the duo said, "Our song is light hear-ted, in high spirits and everyone is in a party mood. In a small subtle way we are showing our support for women empowerment and aaj kal toh har field mein aurat hi sabse aagae hai [these days women are leading in every field], the lines are matching very well with Akshay's attire and the mood of the song."
Its Entertainment hit the screens on 8th Aug, 2014!!