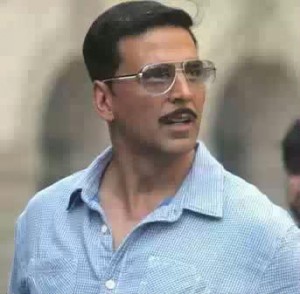 Fans of superstar Akshay Kumar are set for a cinematic treat because for Special Chabbis, the actor will portray a villainous and cunning thief, who leads a pack of "26" hardened criminals in a daring jewellery heist, which sent shockwaves across India. Based on a true story, Akshay's character 'Mon Singh' is said to be based upon real-life, notorious conman Natwarlal, who sold the Taj Mahal in a series of daring scams, before he was stopped.
Special 26 is a cleverly scripted and observed gritty drama film, which is based on the real-life events of the infamous Mumbai daylight raid of 19th March 1987 in which an unknown conman posed as CBI officer 'Mon Singh' to recruit a band of 26 impostor income tax officials to carry out an audacious robbery on the Opera House branch of Tribhovandas Bhimji Zaveri in Mumbai, disappearing with precious jewellery worth Lakhs.
Akshay Kumar plays the ruthless and brilliant criminal mastermind 'Mon Singh' in cutting-edge director Neeraj Pandey's much-awaited cinematic release. Pandey is best known for his thought-provoking films, such as the critically acclaimed A-Wednesday, for which he won the Indira Gandhi Award for Best First Time Director, and the gritty thriller Ek Chalis Ki Last Local.
Akshay was the preferred choice of Neeraj Pandey to play the lead in Special Chabbis, with Pandey telling The Times of India: "We were clear he'd be the best choice. So breaking the kind of image Akshay has, as an actor, was the trigger. I'm doing 'mind action'… something I've never done before. The film shows how this guy's mind worked.
"Akshay's got an ability to listen, which is a rarity. Here, people are talking all the time. He has an immense sense of discipline. Working with him is special."
What is cool is that the actor was so inspired by the true life element of the film that he had a commissioned a unit to recreate a CBI's 1980's vintage briefcase for his character, conman and fake CBI officer.
Special Chabbis boasts an esteemed supporting cast, which includes Manoj Bajpai (Gangs of Wasseypur, Satya, Veer Zaara) Jimmy Shergill (My Name Is Khan), Anupam Kher (The Silver Lining Playbook, Bend It Like Beckham) and relative newcomer to Hindi cinema and the only female protagonist in the film Kajal Aggarwal (Singham).
Special Chabbis will release on 8th February 2013 through Viacom 18 Motion Pictures.
Stay tuned tomorrow we have a special interview with Akshay on all thing Special Chabbis!