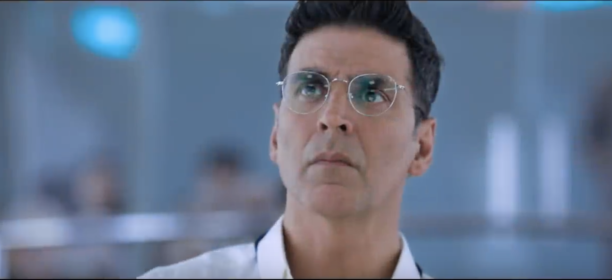 Akshay Kumar is one of the best known and highly respected actors in the Hindi film industry. With each film he does, he presents something new and challenges himself with films and roles he is really passionate about. His next film is Mission Mangal, which blasts into theaters on August 15th.
The film, directed by Jagan Shakti, also stars Vidya Balan, Sonakshi Sinha and Taapsee Pannu as well as a team of fabulous actors that includes Sharman Joshi, HG Dattatreya, Dalip Tahil, Kirti Kulhari and Nithya Menen.
Mission Mangal is the incredible, true story of a scientist, Rakesh Dhawan, played by Akshay Kumar and Tara Shinde, played by Vidya Balan, who lead a motley team of scientists who overcome their personal challenges and failures to serve as the brains behind one of the greatest missions in history: the launch of India's first satellite to Mars, a stunning achievement that restored the nation's confidence. The film is a tale of ordinary people doing extraordinary things and inspiring generations to dream big and achieve the impossible.
Let's set the stage for lift off!

In a wonderful Q and A interview, Akshay Kumar, as only he can with excitement, passion and fun, talks about the film, his character and why he thinks this is one of his best movies!
This is such a fascinating story and film, what were your first thoughts when you were approached about the role and heard the script?
When Jagan narrated the script, he told me astonishing facts that really opened my eyes. I was drawn to Mission Mangal instantly because the fact that that we have launched a satellite to Mars in the quickest amount of time and with the smallest budget in comparison to Nasa, China and Russia is a story that needs to be told. As his sister is a scientist at ISRO, Jagan narrated several accounts that unfolded behind the scenes which made me incredibly proud of the work the Indian Space Research Organisation has done for this country.
I was extremely proud that I was chosen to play the character of Rakesh Dhawan and to represent one of the biggest moments on India's space history on screen.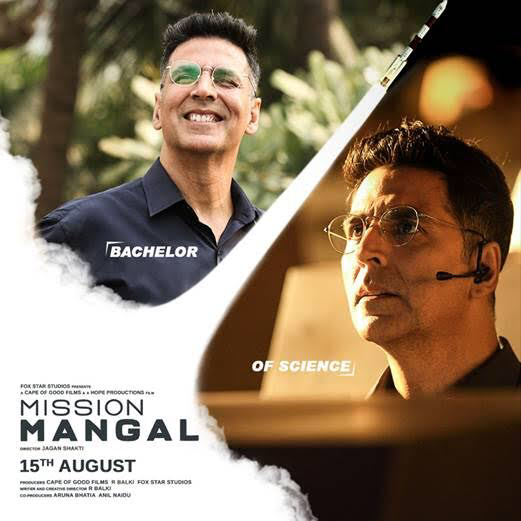 How did you prepare to become this character? Is it harder to play someone real and in a more modern situation like Mission Mangal is?
To be honest, I got to learn a lot about space science thanks to this role, as I play a character in the film called Rakesh Dhawan who is the Mission Director. Besides updating my vocabulary with scientific terms like trajectory, the meaning of which I still don't understand (chuckles), there wasn't really any special preparation required for the role as such. Like with all my films, I followed my director's instructions as he's the one person who understands the film better than any of us.
I didn't know much about India's Mars mission prior to the film. I didn't realize just how magnificent their achievements were until I learned about the facts. It was truly an overwhelming experience to sink into the character even though I have worked in over 150 films.
We were bringing to screens one of the proudest moments in Indian space history and we had to be extremely responsible in our portrayal of the scientists, as we wanted to do absolute justice to their achievement, innovation and genius. Our director Jagan had immense clarity in the role and script and all my co-stars did their job so well that it inspired me to put my best foot forward too. 🙂
It does celebrate the women scientists, how important is that in today's age?
When Jagan came to narrate this film, he came with an entire presentation on the amazing facts and figures associated with the mission.
One of the things that really caught the public's and my attention when photos from the Mangalyaan mission were released was one particular photo of these sari-clad women from ISRO, and what an impact it made 🙂 what really connected with anyone who saw that photo was the fact that the women in the photo were regular ladies, they were mothers, sisters, wives, etc. but they were also the scientists behind Mangalyaan.
They were sincerely ordinary people doing an extraordinary thing.
I am glad the film helps to break gender stereotypes to demonstrate that women can excel in all kinds of professions and I hope it inspires both men and women to follow their passion with full determination. Mission Mangal doesn't need to be a women empowerment initiative, though. It is an underdog story about a team of scientists who established that anything could be possible and made India proud. More than woman empowerment, the film is about thought-empowerment 🙂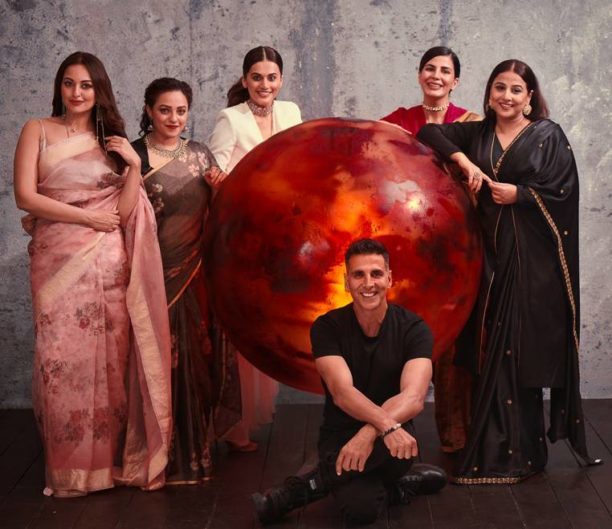 Tell us about working with this amazing cast of women like Vidya Balan, Sonakshi Sinha, Taapsee Pannu.
Being in a predominantly female-led ensemble was so much fun. What really brought us together was our excitement to get this story out and tell it well. Even though I have worked with Vidya, Taapse and Sonakshi in the past, they always reinvent themselves for new projects in such a refreshing way. And though it was my first time working with Kirti and Nithya, they also brought so much creativity and insight to the table. We learned and laughed a lot while on set, and we were able to learn so much from each other while filming.
All my female co-stars in Mission Mangal have incredible films to their own credit and they have carried forward their wonderful body of work through this film as well.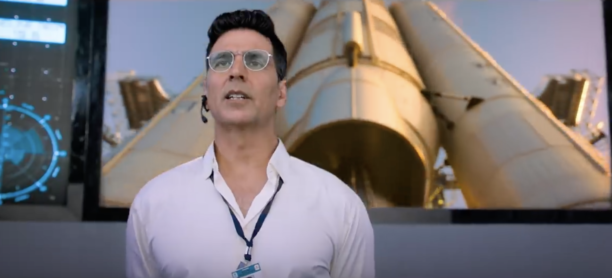 What did you learn through the process of making this film?
Not just me, all of us learnt a lot through the process of making this film. Being placed in the shoes of a space scientist allowed us to investigate a completely different profession, and a small glimpse at how hard-working the people in this industry are.
We wanted to keep the story line as realistic as possible, but our goal was to create the perfect balance of entertainment, education and inspiration. I worked alongside our director, Jagan Shakti to collaborate and keep the plot accessible for viewers without diluting the story, as we really wanted to highlight the complexity of this mission.
You recently said that of the 150 films you have made this is one of your best, what was it about this film that makes you say that?
We were bringing to screens one of the proudest moments in Indian space history. India's Mars mission was such a motivating moment because it proved that with enough dedication and hard work, achieving far reaching goals can be possible. Mission Mangal is a celebration of the Indian Mars satellite and India's scientific prowess. The film shows the spirit of the hardworking scientists who dedicated themselves to the success of this mission and depicts them as the ground-breaking thinkers and leaders. I believe that the story can resonate with anyone because we've achieved a fantastic balance of entertainment, education and inspiration. Also, I believe that this is one of those rare films which will strike a chord with the young and old. I want kids to watch the film, learn the story behind India's Mars mission and maybe aspire to be scientists themselves 🙂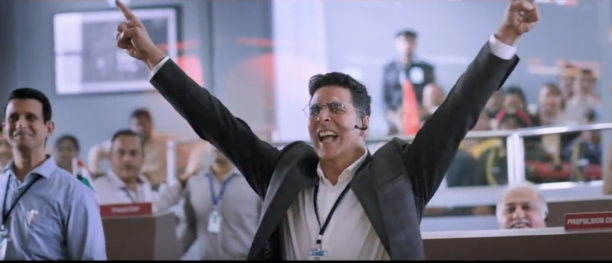 What do you still love about acting and how do you keep your passion alive for your films and roles?
In my career, over the last two decades, I have made an effort to step outside of my comfort zone and invest myself in projects that I am passionate about. Films that I have done including Toilet: Ek Prem Katha and Pad Man are results of this, and they paid off. I will continue to take risks and push myself as long as I truly believe in what I am doing. I don't feel that I am repeating myself, I have learned to follow my passions in a way that keeps me from doubting myself and letting critical voices in.
Thank you Mr. Kumar for your incredible, in-depth and open answers that are given with a smile! You are one of my favorites to interview and I loved writing the final piece because I know the readers and your fans will love your answers too!
Mission Mangal opens in theaters worldwide on August 15th and we can't wait!
Stay tuned we also have a wonderful interview with Vidya Balan!