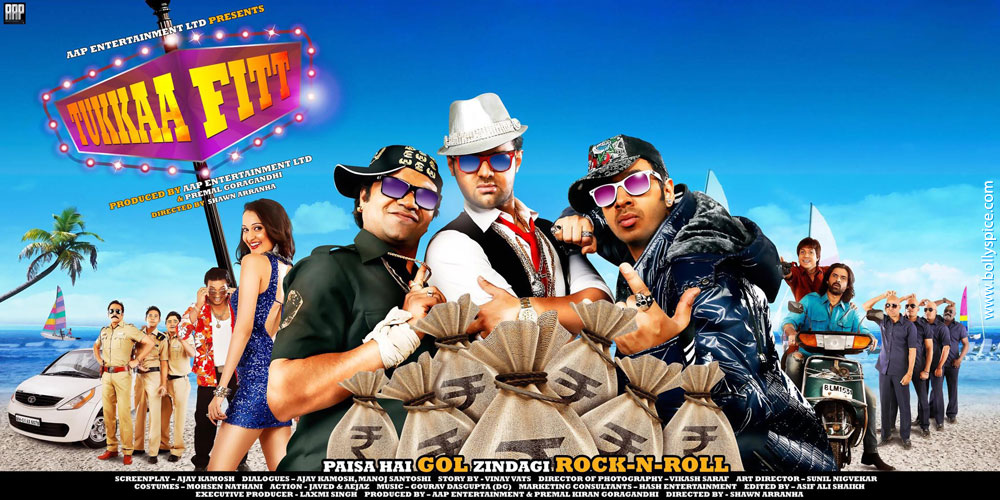 AAP Entertainment's Tukkaa Fitt seems to be one film that will set the box-office registers rolling. Or so it seemed with the trade and the entertainment industry thronging to be part of this AAP Entertainment venture's First Look Unveiling.
The auspicious moment was at the hands of Akshay Kumar, Mithun Chakraborty and a horde of other celebs at Novotel Hotel, Mumbai on May 11. The team of the film had a special bond which was apparent. Director Shawn Arranha was visibly excited on the response the film received. The unveiling of the poster was graced by the entire team together.
AAP Entertainment's Tukkaa Fitt, directed by Shawn Arranha and produced by Premal Gora Gandhi, stars Mahaakshay Chakraborty, Vaishali Desai, Hiten Paintal and Rajpal Yadav in key roles. Tukkaa Fitt is a comic story of three vagabonds and their journey to hit jackpot. It deals with money chase, aspirations attached to the money and the money unloading its problems onto others. It's a bull's eye even in the most remote chance. It's like someone hitting a jackpot by fluke. This film interplays with all characters and we introduce a gamut of comedians with their new shades of characterization. This film has a cast that also includes Mukul Dev, Mukesh Tiwari, Sunil Pal, Amit Mistry, Viveck Vaswani, Mahesh Manjrekar to add a laughing riot on the comedy landscape.
At the unveiling, besides director Shawn Arranha, actors Mahaakshay Chakraborty, Vaishali Desai, Hiten Paintal, Viveck Vaswani, Rajpal Yadav, Mahesh Manjrekar and Vaishali Desai, Akshay Kumar, Mithun Chakraborty, Sajid Nadiadwala, Sunil Shetty, Johnny Lever, director Ashuu Trikha, Jackie Shroff, Arya Babbar, Tia Bajpai, Anu Malik, Sayali Bhagat, Lalit Pandit, Sudhir Mishra and a host of others made their presence felt.
Shawn Arranha as a director said "I should be adaptable to direct films of all genres and hence when this subject came my way, I completely agreed as it was a challenge for me as well. It is my first time doing a comedy and it will be fun because I have a fantastic star cast".
After a grest response at the event still basking in the glory of #TukkaaFitt. Superb feeling :))))

— SHAWN ARRANNHA (@shawnarranha) May 13, 2012
Banner: Aap Entertainment
Produced by: Aap Entertainment & Premal Goragandhi
Director: Shawn Arranha
Executive Producer: Lakshmi Singh
Banner: Aap Entertainment Ltd
Star Cast: Maahakshay Chakroborty, Vaishali Desai, Hiten Paintel, Irfaan Khan, Mukesh Tiwari, Mahesh Manjrekar, Rajpal Yadav, Satish Shah, Viveck Vaswani, Amit Mistry and Sunil Pal
Music Director: Gaurav Das Gupta
Story: Vinay Vats
Dialogue: Ajay Kamosh, Manoj Santoshi
Director of Photography: Vikash Saraf
Art Director: Sunil Nigvekar
Screenplay: Ajay Kamosh
Audiography: Naeem Shaikh
Edited by: Asif Ali Haikh
Costume: Mohsen Nathani
Action: Javed & Aejaz
DI, VFX, Editing: Image Device ltd
Dubbing: Br Studios
Background Music & Final Mixing: B R Studios
Media Consultant – Picture N Kraft (Parul Chawla)