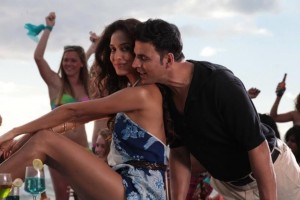 Anticipation for Akshay Kumar's latest film The Shaukeens has been rapidly growing over the past few days, with things culminating in a take-over of YouTube India by the cast on Thursday, 6th November. Akshay Kumar, who makes a special appearance in the highly anticipated remake of the 1982 film 'Shaukeens', posted a video announcing the takeover with co-star Lisa Haydon.
The takeover saw the main page of YouTube India filled with new The Shaukeens content and exclusive, exciting featurettes. Fans are able to see trailers of the upcoming film, alongside short videos of Lisa Haydon describing the main characters in the film. In addition, the entire soundtrack has also been placed onto a playlist for fans listening pleasure.
The Shaukeens stars veterans Annu Kapoor, Piyush Mishra and Anupam Kher, three men who venture on a trip around Bangkok, after hiring a driver, played by superstar Akshay Kumar in a special appearance. On their arrival in Bangkok, they meet the sultry Lisa Haydon, who plays Ahana, a singer and dancer who works in a local club. Upon meeting Ahana, the three mischievous rascals do their very best to impress her, hilariously oblivious to the fact that she is their driver's love interest. The tag line of the film engagingly plays with common stereotypes about age, with the film being described as: 'a coming-of-age' comedy.
There are many reasons to watch the film, including several special appearances from superstars such as Suniel Shetty and Dimple Kapadia, the incredible soundtrack featuring such music heavyweights as Yo Yo Honey Singh and Vikram Nagi, and the winning combination of lead actors Annu Kapoor, Piyush Mishra and Anupam Kher, who are all masters of comedy, and will have you in stitches.
The Shaukeens releases on 7th November 2014.