The Special 26 crew including director Neeraj Pandey (A Wednesday), Akshay Kumar and Anupam Kher are back together again, this time for action thriller Baby. Joining in on the action of the slick, espionage thriller are stars Rana Daggubati, Danny Denzongpa, Kay Kay Menon, Rashid Naz, and Taapsee Pannu.
The film, heavy on gruelling action sequences and stunts, sees Akshay Kumar playing an elite top counter intelligence agent who, along with his team, has to foil a major terrorist attack.
Check out what Akshay Kumar told us when we caught up with him for a Q and A about the film!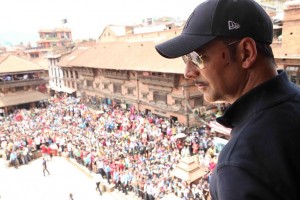 What made you choose to do this film and play this character?
When I knew Neeraj Pandey was on board, I knew I had to get involved in the project. It's been great working with Neeraj again, we've got this crazy chemistry and I've got such respect for him. Neeraj Pandey is one of the most complex directors I've ever had the pleasure of working with, he's calm but super intense. He demands the best from his team and he made it clear from day one, 'work hard or the door's that way'.
What I love most about this man, apart from his direct honest opinion and crystal clear vision, is how this man doesn't shoot to impress. He's not here to extravagantly blow your mind, he shoots to tell you a story. His only interest is to suck you into the trail he wants you to follow. I could follow this man till the end of the earth.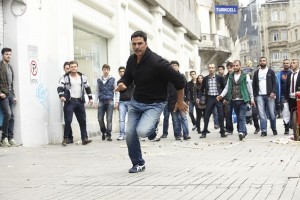 How would you describe the story of the film?
There are a lot of messages that will be conveyed through Baby. We can see in the trailer that the film also tackles the issue of terrorism, but I want people to watch the film and realize the other messages that we want to convey.
Tell us who do you see Ajay Singh Rajput as?
As a Special Forces Officer, Ajay is a grim brutal character who is fiercely patriotic. Though he seems very similar to
the character that I played in Holiday, he's very different. While Holiday was a real mix of genres, crossing between thriller and rom-com, Baby doesn't really have that light hearted side. Ajay is the sort of person who would do whatever was necessary to keep his country safe and doesn't have different shades to his character.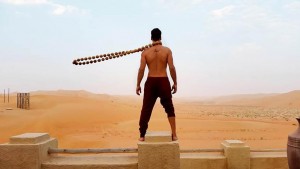 How do you become your characters, especially such a strong character like this?
There were a lot of preparations I had to make for Baby. Physically, it was a very demanding film and so I upped my game in the gym! I do like to keep my body guessing so I love trying out new techniques and exercises.The most recent discovery I made are these heavy wooden beads I bought in Singapore. I have 50 beads, which weigh about 2-3 kilos. The aim is to move them around your neck, which seriously works your core. If you do it wrong, the beads will drop. It
works your cardio, so when you finish, it tones you up from the inside out.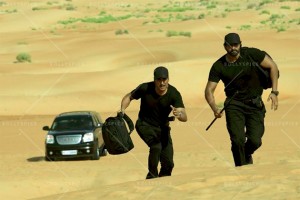 The action in this seems very real, how was it to perform the scenes?
There were several physically demanding elements to this film, one of which was filming in the Arabian desert. It was 50 something degrees while we were out there so we just had to get it done as quickly as possible, which wasn't easy!
We needed rough desert terrain and an Arabian airport. Plus, we just couldn't have shot it like that in Mumbai. They won't close a part of the street for you – they'd rather close the shoot.
Tell us about working with one of our favorites Anupam Kher.
I keep bumping into him on sets over the past few years! We worked together on Special 26 and more recently on The Shaukeens, which I've loved!  He's a real character and makes me laugh so much! He's great with the younger actors too;
if something ever went wrong he'd give tips on how to improve.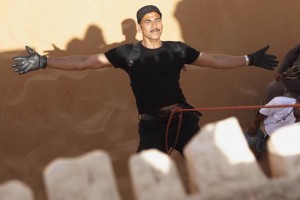 Why is the film titled Baby?
I was very surprised when I first heard the title and was introduced to the script, but slowly I got to know about the importance of the title Baby and realised that it could never have been anything else!
What are your thoughts on Indian cinema today?
Let's think of Cinema as one large global family. Everyone has things to learn from the other. Indian cinema is evolving, not only in areas of scripts, effects, acting technique but also audiences. There is a much more need of seeing global cinema and they are open to it, so the cross over is becoming easier and more possible than it ever was. No wonder you have all the big studios of Hollywood setting and functioning offices from India and also making Bollywood films. There are a lot of Hollywood films which are doing equal business in terms of investment and profit as some of the Bollywood films, and so is the case with Bollywood films going international and the market for Bollywood opening twice as more. We are releasing our films in 30 countries and the list is growing continuously, these are good signs. However, the gap that exists between Indian cinema and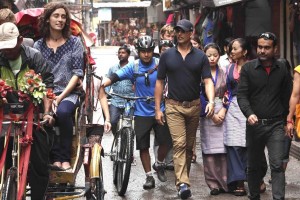 Hollywood has to be bridged to make even better cinema, do better business and share good talent. There is still a way to go, and we will always be divided, but the respect and the joining of hands and collaboration is growing 10 fold.
What does your fans tremendous support mean to you?
I hope to be able to continue to give them films which touch them emotionally, entertain them, make them laugh and make them cry! I also want to thank them for the endless support and loyalty throughout the years.
Baby is in theaters this Friday!