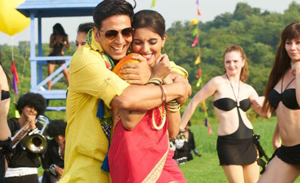 Fresh from the success of his recent film OMG Oh My God, superstar Akshay Kumar returns to the big screen on Friday in Khiladi 786. This film can now be included in the various other 'Khiladi' titled films which Akshay has starred in during his impressive 21 year career. He stars in this comedy film along with Asin, Mithun Chakraborty and Himesh Reshammiya, the latter having also composed its official soundtrack. If you're the kind of person who's into 'masala' films, then be sure to head down to your nearest cinema and catch Akshay in action. To celebrate the release of Khiladi 786, Akshay shared his thoughts on the film and his experiences as the leading man in it in this cool Q&A.
When asked how it feels to be returning in another Khiladi film after such a long time (the last one being Khiladi 420, 2000) Akshay had this to say. "From 'Khiladi' to 'Khiladi 786,' my journey has been a full circle and that circle will keep re-creating itself as there is still so much to do, so much to learn and so much to deliver to my fans. 'Khiladi' made me believe in my work and that I could have a career in this line of work.
Akshay expressed his sincere gratitude towards his many fans that have been his bedrock during the past two decades. "Khiladi 786 is my gift to the millions of fans who have supported me throughout these years, through thick and thin. It's only because of them and their solid faith in me that I have carried on, to the extent now that I am continuing the Khiladi legacy after a long time and bringing to them Khiladi 786."
It is rumoured that both Diana Penty and Nargis Fakhri were strongly considered for the female role before Asin was finally selected. Akshay talked about Asin and what it was like to work with her in Khiladi 786. "Asin is a great actress. She is a talented performer, who always gives her complete best to any project she is involved with. We had a great time making Khiladi 786, and hopefully our on-screen friendship and great working relationship will be visible to all our fans who come to see the film."
Akshay also expressed his thoughts on Himesh Reshammiya, who has composed the soundtracks to many of his films over the years. In Khiladi 786, Himesh has not only composed the songs, but also plays a key role in the film as an actor. "As a person Himesh is a great individual – such a creative person it's unbelievable. It was a joy to work with him. Also, Himesh's music is really being appreciated. One of my favourites is 'Sari Sari Raat' – it's a die-hard romantic track and for all those romantics out there. See this film has a bit of everything!"
Given the overwhelming success of Akshay's recent films Rowdy Rathore and OMG Oh My God, obviously there are high expectations from fans with Khiladi 786. When asked about what highlights the film has which his fans can look forward to, Akshay mentioned the following things. "Me jumping off tall buildings, making the fans cry with laughter and getting the girl in the end … what more could you ask for?! Lol! Khiladi 786 is a culmination of all the other 7 Khiladi films so you will see combination of romance, drama, comedy and of course action."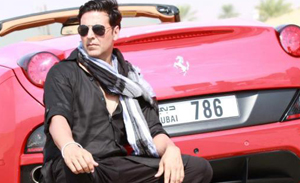 Finally Akshay spared a few moments to discuss his forthcoming projects which are scheduled to release next year. He had this to say for all his devoted fans: "I am looking forward to 2013 as I have a busy year ahead of me; 'Special Chabis' is coming up, 'Once Upon A Time in Mumbai Part 2' and 'Naam Hai Boss.' Currently I am tied up with my Hindi film projects including my own productions from my new production company Grazing Goat Pictures. I am a big believer of delivering entertaining masala films as that's what the audience at large want to see when they visit a cinema. Some escapism, humour, emotion, action, drama and a sprinkling of romance!"
Khiladi 786 is in cinemas on Friday! Be sure to catch it if you are one of Akshay's millions of fans who just cannot get enough of him!