If you are an Shah Rukh Khan fan and follow his tweets, you may have heard of Whosay. Whosay is an exclusive platform only for celebrities and Steve Ellis, the company's chief executive, told the New York Times in an interview, the company's purpose is to "give celebrities and other influential people a set of tools to allow them to manage and control their presence in the digital world." The platform works on an invitation-only basis and until now, Shah Rukh Khan was the only Indian celebrity on the site. However, now joining him now is our very own, Akshay 'Khiladi' Kumar. All of Akshay Kumar's social properties including tweets, photos, videos, Facebook and more can now be accessed by his fans from all over the world on Whosay.
In fact, Akshay has already put up his first post on the all-exclusive celeb social website. His first entry was his latest tweet and photo from the sets of his new film Rowdy Rathore.
He tweeted: "Lovin da feel on da sets 2day as I relax with da Indian Michael Jackson – Prabhu Deva, da Queen of dancing – Saroj Khan n my beautiful co-star Sonakshi whose dancin very hard. It is time 2 get rowdy!"
Check out the photo as well!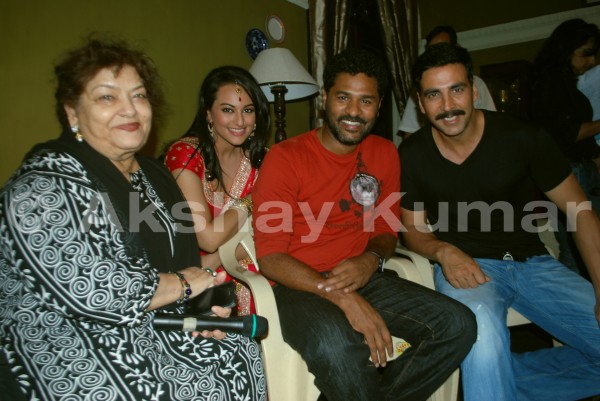 You can see Akshay's Whosay page at http://www.whosay.com/akshaykumar