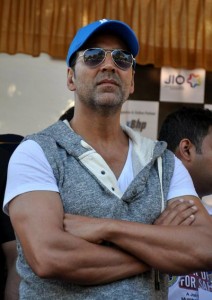 Bollywood's very own action hero Akshay Kumar proved he is not just all brawn when he attended a specially convened road safety rally in Mumbai, India, this week. The generous star, responsible for some of Bollywood's biggest recent box office smashes, including OMG (Oh My God), Boss and Special Chabbis, gave up his free time to promote the important message to motorcyclists of road awareness and riding safely on Mumbai's super busy roads.
The 'Ride for Safety' rally flagged off from Bandra-Kurla Complex (BKC) and was organised by the diligent Mumbai Police Department, who have previously worked with Akshay Kumar on other public awareness-raising projects. The rally saw more than 2,000 two-wheelers take part in the event, which covered a route from Bandra-Kurla Complex to the Hajji Ali Mosque, some 20 kilometers in about 50 minutes.
Akshay Kumar proved to be the star attraction as he himself took to the road on a stylish, customised motorcycle, complete with helmet and protective clothing.
Deputy Commissioner of Police, (traffic suburbs), Pratap Dighavkar, said, "This year, 49 bikers were killed in accidents till August. Last year, a total of 77 motorcyclists lost their lives in accidents. In 2011, a total of 72 bikers died, while in 2010, 67 bikers were killed in accidents. If we see the record of the total accidents across the country around 1.50 Lakh people die in road accidents on an average and out of these, 49 percent are bike riders."
Akshay Kumar's message was simple and succinct, "If you value your life and your family, wear helmets and ride safely."