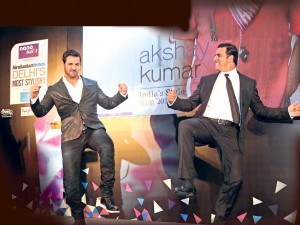 As a man of pure class and loved by the masses, it comes as no surprise that Akshay Kumar was recently announced as India'a Style Icon at the fourth edition of the Hindustan Times Style Awards. The Awards took place at The Oberoi in Gurgaon, to honour those stars who are known for their trend-setting ways and who stand out in the Indian Film Industry year upon year for their individual style.
Fashion-forward Akshay recently led the comeback of the bearded look in Bollywood, which he grew for his upcoming movie, Gabbar. Prior to this, he was spotted several times in casual checkered shirts, paving the way for the comeback of this vintage look, which was widely admired and imitated by the fashion concious young men of today.
The award win by Akshay truly cements his iconic status and recognises not only his visual style but also the substance behind this style.
This year's Awards ceremony was hosted by Hindustan Times City Editor Sonal Kalra and comedian Cyrus Broacha, and had a star-studded attendance. Guests were treated when Akshay and his former co-star John Abraham took to the stage upon Akshay's win, to groove in a moment reminiscent of their scenes in Desi Boyz.
Akshay Kumar has multiple upcoming projects which he has been working towards; whilst his Martial Arts Institute for Women launches on 1st June 2014, Akshay fans can also expect to see the forthcoming film 'Holiday: A Soldier Is Never Off Duty', hit screens on 6th June 2014, released through Reliance Entertainment.