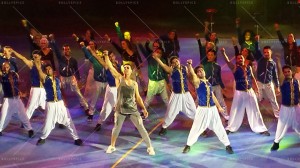 They say a true entertainer performs against all odds for his fans. Something of the sort happened on Saturday 9th August 2014 for the inaugural World Kabaddi League at London's O2 Arena. 
The UK has been waiting with bated breath for international superstar and owner of the Khalsa Warriors kabaddi team, Akshay Kumar, to perform at the event, which also marked his 500th performance in his 24-year illustrious career. 
Despite torrential weather in the UK causing flash floods, tens of thousands of individuals gathering in London for pro-Palestine demonstrations and the annual RideLondon charity bike run resulting in road closures and rerouting, Akshay Kumar remained the ultimate sportsman of the event, as he supported the organisers to make sure the show went on seamlessly. He lived up to his reputation to deliver a breathtaking performance for fans that made it to the venue to see him perform live.
A fan was overhead saying, "We have travelled from the Midlands just to see Akshay. We are so lucky to be here. Several of our friends that were departing this morning are yet to reach London. Seeing his 500th performance is a dream come true."

The 'Khiladi Kumar' set fans roaring with craze as he opened his act with a death defying aerial act, performing a series of summersaults midair before burning the floor with dynamic performances to some of his biggest musical hits, Shera Di Kaum and Party All Night, and to popular Punjabi chart busters such as Mundiyan To Bachke. India's heartthrob and handsome pin-up melted hearts with his live performance of the scintillating romantic track Tu Hi To which he himself had recorded. 
An insider close to the event said, "Akshay Kumar is arguably the most thorough professional the Indian film industry has. He is loyal to his millions of fans, colleagues and producers and there has never been a day in his entire career where he has let them down. I have been in situations where high profile personalities have walked out and failed to perform in such scenarios but against all odds, Akshay Kumar went full steam ahead with the show with an incredible performance that is among one of his most innovative. Akshay Kumar is arguably the true sportsman of the league."
World Kabaddi Leagues first day tournament in London kept spectators engaged. What's more, Akshay Kumar's winning streak at the box office also rubbed off on his team Khalsa Warriors who won an impressive victory against Yo Yo Tigers, a team co-owned by Punjabi rapper Yo Yo Honey Singh.