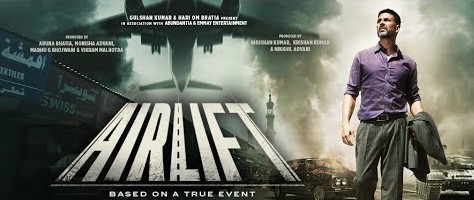 Superstar Akshay Kumar is all set for his forthcoming movie Airlift, a thriller which releases on January 22 next year.
Talking about the movie, which is based on the real life episode of largest civil evacuation by Air India and Indian Airlines in the 1990s, Akshay Kumar told NDTV, "This episode should be in textbooks. When we talk about history, we don't mention this, as there was a big political reason behind it…" he said.
Akshay goes on to say how the movie is based on the biggest airlift evacuation done by any country, "This is a real story… India did a big thing of bringing back close to 1,70,000 Indians and it is there in the Guinness Book of World Record."
The actor has been setting the fans pulse racing by sharing flashbacks of iconic pictures and chronological events that took place in the 1990s – a direct reference to the time period in which Airlift is set.  'Airlift' is an edge-of-the-seat thriller based on a real incident, which occurred in Kuwait in the 1990s, during the time of the Gulf War. An Indian businessman, Ranjit Katyal (played by Akshay Kumar) helped in evacuating 1,70,000 Indians, safely, back to their home country at the time of crisis.
The teaser trailer released on Wednesday, 18th November.