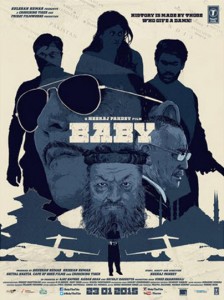 Expectations of Baby have been high among the Akshay fanbase in recent weeks. 'Waiting for Baby Trailer' trended for a record two weeks on Twitter and it seems that despite the Baby teaser going viral on the 20th November, their hunger for a new Akshay Kumar film has not been satisfied yet. Fan's patience will be rewarded soon however, with the full trailer for Baby being launched on 3rd December.
Akshay tweeted the day before the eagerly awaited launch with a new poster for Baby captioned "Only for you! Check out the new #Baby look before the world sees tmw. 24 hours to go for the #BabyTrailer."
So far, very little film footage has been released, with the 20 second teaser video only showing behind the scenes footage and action stunts from the film. The short clip shows scenes of Akshay abseiling down walls, running through the desert and leaping from colossal explosions!
The teaser video can be found here:

Baby sees Akshay reunited with director Neeraj Pandey, who teamed up on the critically-acclaimed film Special 26, Baby's producer Bhushan Kumar has recently applauded their chemistry and has likened the pair to the award-winning Hollywood duo, Leonardo Di Caprio and Martin Scorcese.
Baby will be hitting screens worldwide on 23rd January 2015.