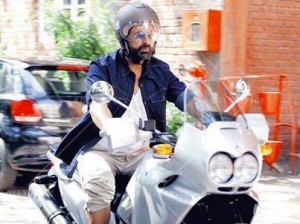 Always the consummate professional, the super cool and talented Akshay Kumar recently undertook a mammoth feat to ensure he arrived on the set of his forthcoming film Holiday on time. The action star and sports fanatic boarded a state-of-the-art chopper (helicopter) and then rode a customised motorbike to the awaiting production crew and his co-stars.
The uber-busy Akshay was in the Maharashtra metropolis of Pune, where he was shooting for the film Gabbar, when he was called to Mumbai for the next day to complete a song sequence from his upcoming action-thriller movie Holiday. Not one to let time or tide stand in his way, the multi-tasking Akshay hopped straight aboard a chopper and then rode his motorbike from Mumbai Airport to the suburban studio in Bandra in order to reach the set by the next day afternoon.
A source explained, "Akshay Kumar was supposed to reach the studio around 4pm and he reached there on time. The film's director and his team were surprised to see him ride in on the bike. They expected him to get late as he was coming all the way from Pune. But the fact is that Akshay often takes his bike to reach shoots on time."
The delectable Akshay then made it a trio of transport modes, as he left the Holiday set in a car!
Holiday: A Soldier Is Never Off Duty is an action thriller remake of the 2012 hit Tamil film Thuppakki and is written and directed by A.R. Murugadoss (Thuppakki, Ghajini). It features a stellar cast, including Akshay Kumar and Sonakshi Sinha in the lead roles and veteran actor Govinda in a supporting role. The film is scheduled to release on 6th June 2014 internationally by Reliance Entertainment.