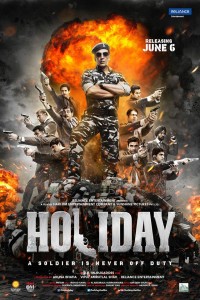 Akshay Kumar and Sonakshi Sinha join forces for the new Bollywood action thriller HOLIDAY releasing in theaters on June 6 and we can't wait. Produced by Akshay Kumar's production company Hari Om Entertainment and Vipul A Shah's Sunshine Pictures, Holiday is an intelligent, high-octane, edge-of-your-seat romantic thriller, which delves into the dark labyrinth of terror cells, bomb plots and international espionage.
Directed by renowned filmmaker A. R. Murugadoss, who made the worldwide blockbuster Ghajini, Holiday also boasts a cast that includes veteran actor Govinda (Raavan, Partner), who ably performs the role of Akshay's senior commanding officer. Newcomer to the Bollywood arena Freddie Daruwala shines as the ruthless and brutal leader of the terror cell.
Akshay Kumar essays the role of Virat Bakshi, a military officer who is on holiday with his battalion in his bustling home city of Mumbai. However, unbeknown to his fellow officers, Virat is also an undercover Secret Defence Intelligence Agent, masterly skilled and trained in covert anti-terror intelligence operations. Whilst on a family visit to Mumbai, Virat is caught up in a gruesome terror attack that sees a crowded bus blown to pieces.
But this is just the beginning of the story for Virat, as he gets drawn into a sinister web of lies and deceit in his quest to bring the very top echelons of the terror mafia to justice before they strike again in the heart of Mumbai – the city that Virat holds closest to his heart.
Every great film needs an equally rousing soundtrack and the new romantic intelligent thriller and Holiday: A Soldier Is Never Off Duty is no exception. The musical score has been burning up the Indian music charts lately and now is already flying high in the coveted iTunes World Album Chart, reaching the number two position on the chart.
The soundtrack by the fabulous Pritam, features an array of different songs, from the catchy first song release entitled 'Tu Hi Tu Hai' by Benny Dayal and the rousing 'Blame The Night' by Arijit Singh, Aditi Singh Sharma and Piyush Kapoor, to slow romantic ballads such as 'Shayaraana', which is beautifully sung by Arijit Singh. Man of the moment Yo Yo Honey Singh has penned two songs for the film, including the very upbeat track 'Dekha Tujhe'.
Check out the three songs videos that have released so far!

And Akshay's favorite song

We have an uber cool and exclusive interview with Akshay Kumar coming up so watch this space!
Holiday: A Soldier Is Never Off Duty is released worldwide through Reliance Entertainment on 6th June 2014