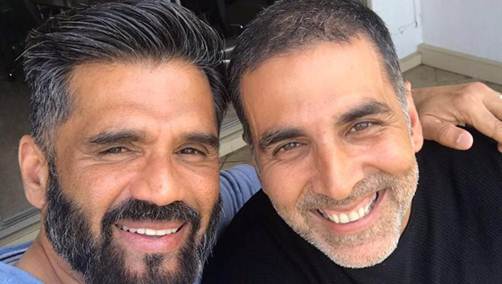 Akshay Kumar recently took to social media to share a selfie with his co-star and one of his long-time friends Suniel Shetty.
The actor shared a cheerful selfie with a caption which read: "This is not a throwback but takes me back to so many. As always was lovely catching up with one of my oldest friend and co-star @SunielVShetty today :)"
Suniel Shetty re-tweeted the photo with a shout-out to Akshay Kumar's most memorable character as Raju from Hera Pheri. He said," Aye Raaaaajjjuuuu! Always such a pleasure to see you!!! So happy to be smiling together forever! @akshaykumar"
Let's have a look at some of the most legendary films the duo have starred in together
Waqt Hamara Hai was the first film where Akshay Kumar and Suniel Shetty came together on-screen. The camaraderie between the lead actors stood out and was much loved by the audience. This film paved the way for the actors to come together again and again for some of the most unforgettable films in Bollywood.
HERA PHERI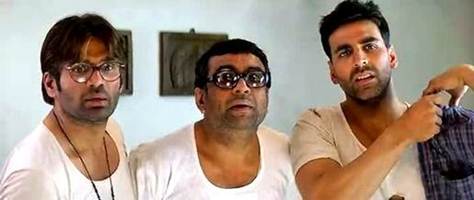 Now, who doesn't know the magic of Hera Pheri? Akshay Kumar as Raju, Suniel Shetty as Shyam and Paresh Rawal as Baburao gave us a cult comedy and the characters played by the actors remains iconic till today.
Mohra saw Akshay Kumar and Suniel Shetty come together in this 90s film which is described as the best action film of the era with a great storyline, action sequences and music
A critical and commercial success, the film is about a love-triangle between characters played by Akshay Kumar, Suniel Shetty and Shilpa Shetty. The music of the film was a massive success.
Now, who wants to see these two handsome gents back together? We certainly do!