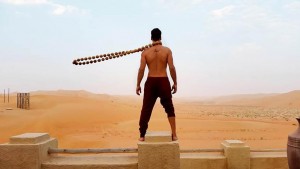 Akshay Kumar is one of the fittest actors we have in our Industry today. Making holistic fitness and body super power his religion the actor continues to amaze one and all, defying all limits he has set for himself as the years go by.
We are all aware that he comes from a background of Martial Arts and when it comes to training he is determined as well as quite focused about it. Akshay pushes himself to the extreme and enjoys taking up challenges.
For his next film Baby which is produced by Bhushan Kumar, Krishan Kumar (T-Series) along with Shital Bhatia, Cape of Good Films & Crouching Tiger, Akshay has gone ahead and done a special kind of training.
Its a core training with huge wooden beads which can go from 50 to 175. Akshay who has trained with 50 beads around for his next film, weighs approximately 2-3 kilos. Yes! you read it right, a picture speaks a 1000 words and if you see the image we see Akshay Kumar standing a midst the desert of Abu Dhabi and swinging the wooden beads around his neck.A spine is a very crucial part of a human body, and if damaged it can cause major hindrances for a person to do any kind of workouts or fitness regimes, therefore Akshay made sure to protect the strongest part of his body by using his inner strength and not by throwing the beads around.
This training usually goes on for 5-10 minutes at a stretch with 1-2 minutes concentrating only on the neck, it beats your fat, stimulates your blood flow, and trains your inner core!
Well, trust Akshay to be at the forefront of exploring new avenues of core fitness! Check out the epitome of fitness as Baby releases on 23rd Jan, 2015.
Gulshan Kumar Presents Baby, A Crouching Tiger and Friday Filmworks Production, Directed by Neeraj Pandey, Produced by Bhushan Kumar, Krishan Kumar, Shital Bhatia, Cape of Good Films & Crouching Tiger.