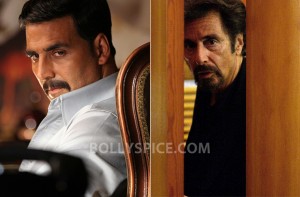 If the promos of Once Upon A Time In Mumbai Dobaara have heightened the anticipation for the film, here is the ultimate endorsement.
Akshay Kumar, the film's menacing Shoaib, essaying the finest grey character of his career, has found an admirer of epic proportions.
The romantic drama, directed by Milan Luthria, has caught the attention of the original Godfather, Al Pacino, who was blown away by the film's theatrical trailer and by Kumar's towering presence in the film.
During an informal discussion between Pacino and his business associate, Barry Navidi, the latter mentioned Once Upon A Time…..,being touted as Bollywood's answer to edge-of-the-seat bad boy entertainers. Pacino, impressed with the trailer, saw himself reminiscing about his Godfather days.
Says Pacino, "My friend Barry Navidi showed me a promo for an Indian film with Akshay Kumar.  It brought some fond memories back from my Godfather days."
Akshay remarks, "A touch of appreciation is always held dearly in an actor's arms, even if it's from the simplest of people like our beloved spot boys. But to have your work spoken of so kindly by the world's most admired gangster Al Pacino himself – I had goose-bumps thinking about him watching the promo! I was so humbled, not only as an actor but as a fan of his legendary work. I pray he enjoys the final piece as much as he enjoyed the promo!"
Concludes director Luthria, "I'm walking around with a silly grin and you know why! The only actor's portrait in my cabin is of this God of Gangsters! An all-time legend and personal favorite. Thank you!"
OUATIMD releases worldwide on Aug 15.