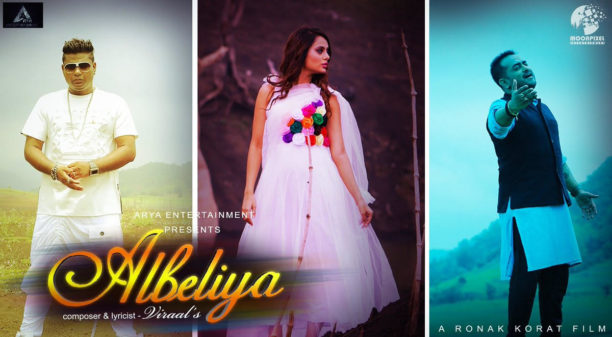 Once upon a time, the Bollywood Music industry used to have a strong prescence of independent music, but sadly over time, the independent music scene has steadily declined. Now, thankfully, this is all set to change! One of Bollywood's finest rappers and musicians Arya Acharya has recently launched his own talent company 'Arya Entertainment' and with it, he is also launching his first independent song 'Albeliya'.
Rapper & Music Producer Arya Acharya
Arya, has worked with many composers within the Bollywood music industry and notably with the multi-talented Himesh Reshammiya. They have collaborated together on popular tracks such as 'Chhed De Pyar Di Baat' from the highest-selling album of all time 'Aap Kaa Surroor' and more recently 'Punjabi Mast' in Action Jackson. Arya has also rapped on the soundtrack of the Ganesh Acharya directorial debut 'Hey Bro', as well as performing with international icon Akon!
'Albeliya' is the first song ready for release. We have full details about the song mentioned below thanks to Arya Entertainment:
"Song – Albeliya
Music Producer – Arya Acharya
DOP – Ronak Korat
Model – Nnupur Sharma
Mix & Master – Tosief Shaikh
Copyrights – Arya Entertainment
Bollywood's celebrated Music Producer and Rapper Arya Acharya's, new Talent Company 'Arya Entertainment' presents his first Music Single titled 'Albeliya' which is an amalgamation of Bollywood-Sufi and Desi-Hiphop Music, featuring the King of Bollywood Sufi Music Krishna Beuraa and Bollywood's celebrated Rapper Arya Acharya.
'Arya Entertainment' was created with an honest intention of giving a justified platform to all deserving talents from India, who are brilliantly skillful, but lacked the technical know how, of creating, producing and commercializing an A-Class musical product.
Composer and Lyricist Viraal from Navsari, Gujrat is the first official artist signed by "Arya Entertainment". His latest composition titled "Albeliya", which also has deep and thoughtful Sufi lyrics written by him, has a combination of a brilliant sufi composition, lyrics and a fusion of Hip-hop music blended along with smooth sounding Rap vocals.
Famous Bollywood Sufi vocalist Krishna Beuraa, has given his powerful and enchanting voice to "Albeliya". Krishna was blown away by the composition and lyrics when he heard it, and immediately agreed to lend his vocals to a new composer Viraal, who he felt had an amazing skill of belting out earthy and pristine compositions.
Beautiful Bollywood Actress Nnupur Sharma, too had the same feeling when she heard the song for the first time. She immediately connected with the earthy feel, of the composition lyrics and vocals of "Albeliya". Nnupur Sharma's professionalism at shooting the song was highly commendable and her enchanting grace and elegance has given "Albeliya" the perfect Visual appeal.
Arya also roped in new dancers Rohit Sharma and Jessica Fernandes. These 2 amazingly talented Mumbai based dancers, have choreographed beautiful contemporary dance moves for 'Albeliya', fusing traditional Indian and Hip-Hop Dance styles, giving a mesmerising touch to the entire Music video.
'Albeliya's' DOP Ronak Korat, is another amazing new comer from Gujrat and has been the man behind the vision of "Albeliya". The song required a very earthy and surreal feel and Ronak blended the naturally perfect and exquisite locales of Netrang, which is a 1st for any Indian Music videos. Bollywood's Popluar Mixing and Mastering Engineer Tosief Shaikh, has given his exciting touch to the final audio of 'Albeliya', making it sound massive, smooth and enticing."
If you are excited by the above and are ready to listen to a new and exciting concept, stay tuned with BollySpice as we shall be bringing you all the details!