Along with Twitch, Travis, Allison, Lauren and Katherine, one of the names that immediately comes to mind when thinking of So You Think You Can Dance is Alex Wong. Known as Alex Freakin' Wong to the fans of the show, this incredible dancer is always a highlight when he comes back as an all-star on SYTYCD. This season once again he created magic on stage and thrilled the audience, the judges, Nakul and Jaja in the Bollywood number he did on the August 17th Top 10 performance show.
Check it out!
We recently talked to choreographer Nakul Dev Mahajan about this exciting piece, (which you can read here) and now we get an inside look from Alex about naaching Bolly-shtyle on SYTYCD. Check it out!
Alex says he loves doing Bollywood, "It's honestly one of my favorite styles to do on the show because Nakul always does high energy fun pieces for SYTYCD."
He says he finds the Bollywood dance style difficult and says it pushes him but that is what is most exciting. "There's always a new exciting challenge! But it's also one of the most exciting parts about learning a new piece or working with a new choreographer, they push you to new boundaries."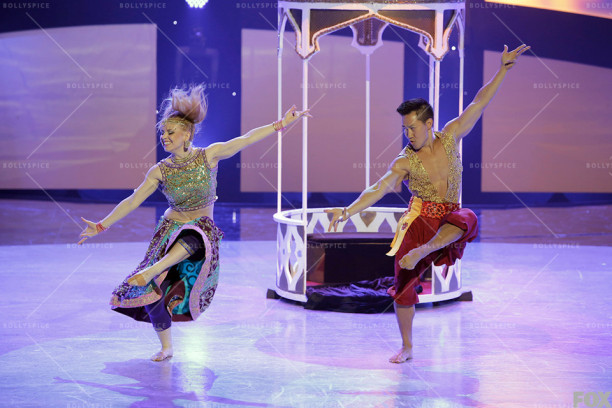 I wondered if learning a Bollywood dance is very different from learning a contemporary or ballet solo or even Broadway number? "Well, every style that you do it's sort of about getting the flavor and essence of the piece. So in terms of learning it, it's not so different because inevitably you're learning and copying what the choreographer wants you to do until you can add your own flavor to it," he replied.
So how is it to work with choreographer Nakul Dev Mahajan? "Nakul is so great to work with! He has such a positive energy about him and he always wants the best for everybody."
About Alex, Nakul said, "I have no words to describe Alex Wong. Without him, this piece would not have been what it was." And in reply, Alex says, "It feels great. I love working with Nakul and it was such a fun process."
Talking about this number that was to AR Rahman's 'Naacho Re' from the Jai Ho soundtrack Alex said, "I loved the music, it made me really want to get up and dance. After he taught the choreography, it was SO fast that we couldn't do it at all." Adding, the piece was difficult because of "the speed of the intricate movements!"
Alex was working with contestant Jaja, who is a street dancer, an animator and crumper, so this style was way out of her wheelhouse. So how was it to work with her on this intricate dance? "Jaja is really excellent to work with. She's a very hard worker and a perfectionist which makes a good combination!"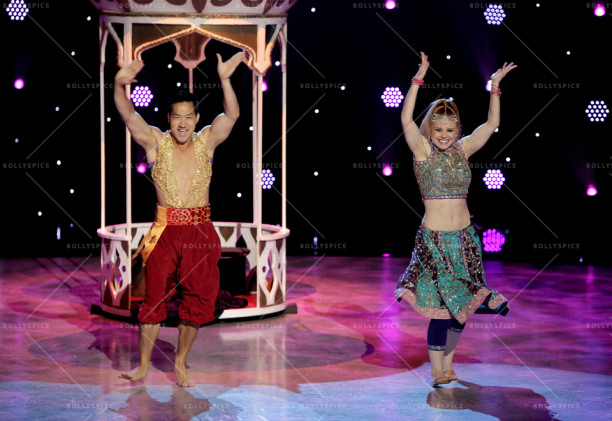 Though it seemed at first she was having trouble, once they got to the SYTYCD stage, her performance was fabulous. So what does he think made her so good in the number? "Jaja has been very good at portraying characters and I think that's one of the most important things about dance in general is to be able to immerse yourself completely in the dance so technique doesn't even matter (to a certain extent)."
What did Alex think made this piece so special? "I think the speed and excitement helped but essentially it was the upbeat characters and chemistry we had that helped the piece come alive!"
Their performance received a standing ovation, "It feels great to get good feedback from the judges and the audience," says Alex, "Everybody works incredibly hard, literally blood, sweat and tears so it's always difficult to have something you've worked so hard on criticized in seconds by someone who is just sitting there. Criticism is good though, it helps us improve but it's not always easy to hear."
We are getting close to the finale so who does Alex predict will win? "Jaja or Gaby. It's a tough call."
Former contestant and former all-star Lauren Gottlieb has made a name for herself in Bollywood films and in India. Since Alex does love dancing to the Bollywood beat, could he see himself going to India to do a film? "I would love that! I think it just has to be the right timing. Lauren has been trying to get me to India somehow for a while now."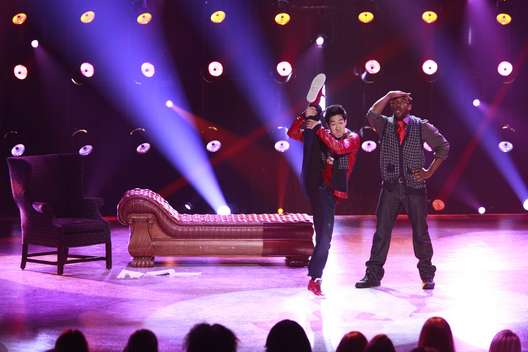 He says it was "Amazing!" that 'Get Outta Your Mind' was chosen as the favorite number on the 10th anniversary show. "I couldn't believe that a piece that I did was voted the best in all the seasons of SYTYCD ever! And a hip-hop piece too! I loved performing it."
Alex is still one of the most popular dancers ever that have appeared on the show, "It feels great, especially that I get to return as an all-star. The viewers are so supportive and wonderful."
Does he think it was the right leap to make (sorry for the pun) of leaving Miami City Ballet and going on SYTYCD and then on to what is now his amazing career? "Absolutely, he answers, "I've done so many things from TV to Broadway, it's been such an incredible journey!"
He also let us in on what he has been doing and what is coming up Alex said, "I just finished the King and I on Broadway, and currently I'm still working on SYTYCD for the rest of the season and also a new TV show on CW called Crazy Ex Girlfriend. In November the TV series I worked on last year called Flesh and Bone premieres on Starz so I'm also very excited to see that!"
We are too Alex, we are too! I would like to thank Alex for taking the time out of his busy schedule to answer our questions! We can't wait to see what he brings to the stage or screen next!