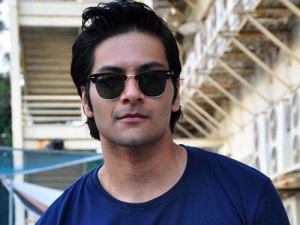 Ali Fazal of Fukrey fame will feature in Universal Studios' biggest franchise of all time Fast and Furious.
Ali is jubilant to be a part of Fast and Furious 7 which is slated for a 2014 release. It is believed that the 26-year-old has already shot his scenes with none other than Hollywood superstar Vin Diesel for the movie.
The talented actor plays the role of a mad tycoon in the upcoming venture of the hit series. Though Ali is appearing in a cameo his character in Fast and Furious 7 in all certainty could bring plum offers for the young man in India and overseas.
Until recently rumors were rife that Bollywood beauties Sonam Kapoor, Deepika Padukone and Chitrangada Singh were being considered for a role in the film. Deepika's spokesperson stressed that she couldn't be a part of the successful franchise as she is occupied shooting for Hindi projects. Now it is clear that it is indeed Indian actor, Ali Fazal who has hit the jackpot according to reports by a leading Indian television news channel.
For those of you who didn't know, Ali Fazal is a powerhouse of talent. He is a model, theatre artist and actor. He has appeared in ad films in India for prominent brands. Ali does plays at Prithvi Theatre in Mumbai. It was his theatre background that helped him bag the role of Joy Lobo in Three Idiots, the second highest-grossing Hindi movie so far.
Ali Fazal was also seen in Red Chillies Entertainment's Always Kabhi Kabhi opposite Giselli Monteiro. Reports suggest that Fazal was highly appreciated by the critics and moviegoers for his role in the flick though the film didn't do very well at the box office. It must be noted that Shah Rukh Khan largely promoted Always Kabhi Kabhi and also made a small appearance in the film.
Ali will be seen in Bollywood movies, Sonali Cable, Ek Tho Chance and Baat Ban gayi in the coming days. And yes we may see him in more Hollywood movies too.
The budding actor's transition from Bollywood to Hollywood has happened remarkably early considering he is only a few movies old. Here's wishing him a very bright future.