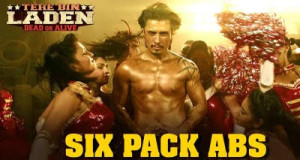 Pakistani singer and actor Ali Zafar's cameo role in Tere Bin Laden: Dead or Alive has many questioning why he wasn't chosen for the lead role in the upcoming film, the actor explains it was solely because he wanted to opt for something 'challenging'.
"When the sequel came underway, Abhishek and I were excited about it but as an actor I wanted to try something challenging. So he decided to cast me in an interesting number," said Ali in a recent interview.
"I felt as an actor I've already enacted the role of a reporter in Tere Bin Laden and would want to try something challenging even if it's a special part. In the west, you would often see even big actors like Brad Pitt or Johnny Depp feature in a surprisingly awkward yet interesting part. That's the whole idea. Abhishek got excited and gave a really interesting angle to my role which obviously I can't disclose right now but when you'll watch the film you would understand why, when, how, what?"
The 'interesting number' Ali speaks of is an item song, Six Pack Abs. The song in the upcoming film has been written, composed and sung by him.
"I was given the task of composing, writing and singing the song. I had a lot of fun with it. It's like an interesting take on the item number concept and the trend of acquiring abs to ensure a hit song," said the 35-year-old actor.
He added that the song has an old Bollywood touch to it, with a catchy beat and lyrics. "Everybody who hears it for the first time bursts out laughing," he said.
The singer went through rigorous training to beef up for his special role. "It was a strict schedule of three months to get into shape. I was off carbs and sugar and worked out twice a day before the shoot commenced," said the singer.
"After it [training] was over, I binged on ice cream and parathas for a month," he added.
Ali Zafar, confessed that he and the makers of Tere Bin Laden made history together by casting a Pakistani actor as a protagonist in a Bollywood film.
"It was like we made history with not only the first film of our careers, which went on to garner a cult following, but also the fact that it was probably the first venture where a Pakistani actor was cast as the protagonist, paving the way for several others," said Ali.
Tere Bin Laden: Dead or Alive releases in cinemas worldwide on 26th February 2016 and is distributed by Reliance Entertainment.
Watch the song video to Six Pack Abs performed by Ali Zafa here: