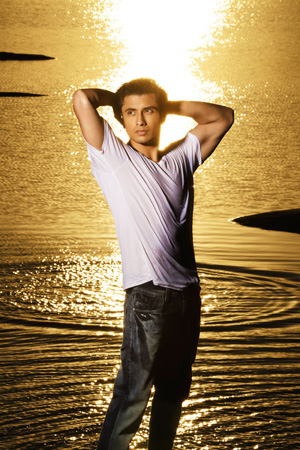 Ali Zafar is a few films old in the Bollywood industry but his foothold is getting stronger and better.  Having done movies like Mere Brother Ki Dulhan and London Paris New York, the actor has created the image of a loverboy. He said that he wants to break free from this image, which he will by doing action movies. He also expressed his desire of wanting to try all genres. "Be it singing or dancing or acting, I want to try it all. As far as the chocolate boy image is concerned, I have done movies which were romantic so the creation of that image was bound to happen. But now I have two action movies coming," he added.
Ali is currently working on his body for the action movies, but he also feels that even though a fit body is the need of the hour, nobody really likes the overly muscular body and he does not want his body to be that way. He stated, "I know girls who do not like the over pumped muscles. I can bet that 97% girls do not like veins popping out. If it is required, I will work on a 6 pack as well. I am currently on a vigorous cardiovascular programme."
Ali Zafar is an infamous all-rounder, being a singer and an actor and what not but he accepts that breaking out of the image he has created will be a difficult task, considering first impressions are usually the last impressions. His fan following is tremendous, and he enjoys every bit of it. But how does his wife Ayesha cope with all the attention? He smiled and said, "Ayesha has got used to this kind of response from fans and all the female attention. Initially, it was a little difficult for her but eventually she accepted it as a part of being in the industry."
He recalled an incident at one of his concerts in Lahore and said, "In one of my concerts, this girl suddenly came on stage and kissed me. I was totally surprised but my wife was calm and she said to me 'Ismein tumhari kya galti thi?' She was right in a way."
Ali will be seen in a cross border love film opposite Yami Gautam titled Aman Ki Asha. The film will be directed by E Niwas.