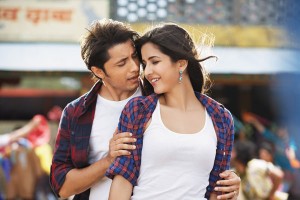 He is as a hugely successful popstar and on his first outing as an actor Ali Zafar blew critics away with his performance in Tere Bin Laden. For his next role, Ali took on a Yash Raj Film Mere Brother Ki Dulhan with Imran Khan and Katrina Kaif. From what we have heard Ali held his own and almost steals the show with his outstanding comedic performance. The actor/singer talks about his experiences working on the film that he predicts will be such a big hit you may have to wait 5-6 days to get a seat!
Tell us about your character in Mere Brother Ki Dulhan.
The character that I'm playing is Luv. Luv is Kush's brother and they have a very interesting relationship with each other. They are kind of candid with each other, but there is also a little bit of a formal equation between the two. Luv is a little loud, a little flamboyant, with the history of not having had many good relationships with his ex's.
Luv – the character I am playing is very interesting, weird/odd, playful, he's a little confused, but he can suddenly become focused on what he wants in life. And after his breakup with his ex-girlfriend, he wants to get married. So since he has the best equation with his brother, he's very close to his brother…close in the sense that he can order him around but he is also frank with him, I guess. He asks him to do this and that, so he tells Kush to find him a girl pronto. Luv as a person, as a character, like I said he is a little confused if he has to decide between chocolate and ice cream, or what kind of girl he wants, what to do? So this confusion goes on in his head all the time. He's a little flamboyant, has been little bit of a playboy, a little loud…whereas Kush is a little docile, a little introvert, and Luv is an extrovert. That is his basic character sketch.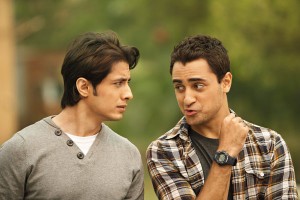 Tell us about your interactions with director Ali Abbas Zafar, the Director.
The first time when I saw and spoke with Ali was via Skype so on the screen it read 'Ali Zafar is talking to Ali Zafar'…so there was a little confusion about who wrote what, who said what and that confusion stayed till the end. Even now when someone calls out 'Ali' we both turn around to see who it is. The first encounter on Skype was interesting. For the first time I heard the script and the story on Skype and right from the word go, as we started talking, a comfort level was established between us, there was no awkwardness. I remember when we were talking and due to load shedding my lights went out and I said to Ali, 'Ali 1 second, 1 second' and Skype switched off. But then we revived the conversation after the power came back. So that was one interesting story telling session.
And I remember that immediately after he had narrated the story to me, I kind of, in my own self, had made up my mind that, I wanted to do this. Unfortunately, when I came to Mumbai, to read the actual script, the bound script, Ali wasn't here. So later after talking, meeting everyone else when I met Ali again I felt this comfortable air around him. There is no arrogance, he is very humble and very good, nice person to communicate with… so we immediately became friends.
When I came for the shooting, I decided I was going to act naturally, soft, sober…so after 1 – 2 times Ali asked me to go up a notch. I said ok and took the acting one notch up. Then he said to take it two notches up from this level and add a little energy and brightness…brightness is one word that Ali likes to use a lot because Ali has been bright since childhood, so I would make my acting brighter. Finally I became 10 stages brighter which took me approximately 10 – 12 days to reach the level Ali wanted me to be at. So then I started using a reverse strategy where I would give an over bright shot and Ali would tell me to tone it down. Then Ali had one more word that he uses a lot which was control…control Ali…control…this is too much. So ultimately our chemistry was working which is what we wanted – that which the director wants the actor delivers and that which the actor wants the director delivers.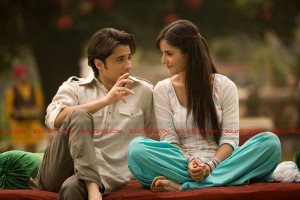 Your experience on Mere Brother Ki Dulhan.
The thing that matters to me the most are the people, the people who are connected to the project directly or indirectly. The people connected with Tere Bin Laden were very nice to the extent that we've formed a friendship and whenever I am here I make it a point that I do spend some time with them. The people connected with this project are also very nice, so it's great fun to work – a person works as an actor from the heart. So instead of measuring [my experience] by a second thing, I measure it by the people. I think, yes, it's important for a big set up, like Yash Raj Films has everything available in-house – when you walk into the office there is the editing suite, dubbing suite, recording studio and all, so it's the ambience that is great, the place is great. The first time I entered here, it had a certain calm and peace to it. And so goes for all the people working here… so ya, it obviously helps.
Your experience while shooting across Indian cities.
For me that was a great experience because this was the first time I've been to Punjab. When I was in Chandigarh, the fields there…I remember a day when the shoot didn't take place and that proved to be advantageous to me because in that time I made 2 – 3 composition and wrote songs. A small river stream was flowing and everything was lush green and cool wind was blowing. And once we had to drive from Delhi to Agra and it was drizzling. I enjoyed that drive a lot. So going to different places, I got to see different cultures, to visit the Delhi Mosque and other places and every place had its own culture.
But still it is all connected in a way, so to experience and feel it has been a very fun experience for me. During the shoot, what's that weird hotel – Patiala…we had a lot of fun there because there wasn't exactly a cricket ground, but there was a ground where we played cricket and I hit 3 sixes on 3 balls by Ali Abbas Zafar, and that's when all the fun started. Everyone played cricket together. So at nights we would all sit together, talk about music, gossip, annoy each other, take walks, exercise, so it felt like a holiday resort, and it was a fun time.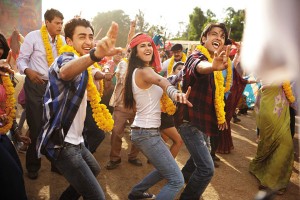 Your experience while shooting with co-star Katrina Kaif.
What should I say about Katrina? Everyone likes her, loves her and she possess the qualities that make her so likable. When you work with someone you get to learn more about them in detail, especially when you travel with someone. What I really like about her is that she is very, very hard working and professional, very sorted when it comes to her work. And actually she's very intelligent. So I liked these things about her. I think this film is a very important film for her and it will show on the screen. In all honesty, I do think that it's her film, in a way, because the way her character and the way she is portrayed, it's fantastic. I will always have a lot of memories of her and working with her – and she's a great person to work with. A very haste khelty ache mood me tons of mazaak karte hue waqt guzra. (The time was spent in a very happy, playful, good mood with tons of jokes).
Your experience while shooting with co-star Imran Khan.
I think I'm very lucky that I got the chance to work with an artist like Imran because it was very comfortable and convenient working with him. Now, I haven't worked with many people but he's humble and very easy to work with. He doesn't make things difficult he makes things easier and a lot of fun to work with so I feel very lucky that I got to work with Imran.
We worked as friends, as brothers and had a great time. He had a lot of interesting facts to share… because Imran is all about lots of facts so obviously lots of interesting conversations took place and we also shared lots of iPhone apps.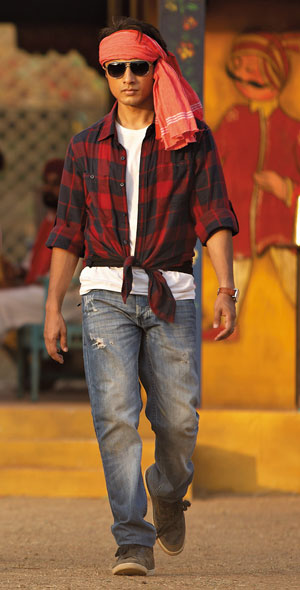 Lets talk about some interesting moments from the film.
Yes, there's one scene where Luv keeps changing his lines at the end. Every time we have a scene, we know what scene it is so we can sit in the van and get our lines ready. But for some reason this time, I didn't know that we were about to do this scene, which was actually about four pages long. So suddenly something happened and our assistant director came and said we had 10 minutes before doing the scene. We had to study our lines very quickly and we finished the scene in one go. So luckily we were able to do it – that was an interesting scene.
Also, apart from that, I think when we were shooting a scene in the rickshaw with Katrina, we had to walk down the road. I think it was my first scene with her. There was traffic behind us and we had to keep re-doing the scene because people were making noises that could be heard in the background. People gathered around on the roads, because like you know Katrina is a big superstar, and wherever she went, people would come. So that was a difficult scene to shoot. Other than that, I'm not really an actor so everything was difficult for me.
Your experience shooting the songs.
If you need me to act, you have to make sure there is no instrument laying around me because otherwise I will lose focus and only think about the instrument. So during this shoot, there would be a harmonium sitting there, a table sitting there, and I would be itching to play them. As soon as a scene would finish, I would start testing them. We had to do a qawalli, so I got in the qawalli mood and began singing to entertain people. I believe that when you are acting, everyone should be in a light mood so they can enjoy the mood together. That was a fun evening. We did a little singing and playing music, and there were many evenings like that.
Tell us about the songs, dancing and music in the movie.
A film's music is very important. If I think a director has no musical sense, then he needs to put on a watch or drive a rickshaw. Fortunately, Ali has musical sense, and he will always have that. He's a great youngster. I remember when Ali sent me the mp3 of 'Madhubala' I said, "Oh, mazaa aa gaya bhai." (Oh, it feels great.) So we recorded 'Madhubala' and Ali added what he wanted too. I want to tell you that in every character, you will see Ali, even in Dimple's character. There was a specialty in Ali's addition to the song like the dialogue "Arrey thak gaye kya?" (Are you tired?) So we really enjoyed that.
Also, Ali and I are both big fans of Kishore Kumar, so we did a little something at end of the song 'Meri Pyaari Bindu'. There's also 'Isq-Risk' – we had a great time doing that too. So I think the music of this film is the film's biggest strength. Sohail Sen has put on a musical circus. You can't just call it commercial music, instead it's tastefully done commercial music and it's different in many ways – different genres, the way Katrina's rock song is – the guitar riff…I really like that. I wish I was Katrina at that time but I wasn't. I think the spectrum of the music is amazing.
Your experience shooting the 'Madhubala' song
For 'Madhubala', they probably asked themselves "what day should we call the actors/actress to come dance so by the end they will be totally wiped out". So they decided that the shoot should be during the heat of June/July and outdoors around 4-5pm. And that's what we did. It was extremely hot, and forget an actor like me but also real dancers were simply okay. For 'Madhubala' I rehearsed two days, thanks to Bosco-Caesar for teaching me how to dance a little. During the shoot, we had a lot of fun because we had to do the song drunk. So it was fun to dance in 'Madhubala'.
But yeah, it was tough. We would shoot in the morning and as soon as we would finish around 6-7pm, when we would be tired, we would have to do rehearsal for the next day's shoot. It was definitely hard to do with the dance…but we're young. Of course, I'm a young man. There is more energy in young men so we can do these things. After 20-25 years, don't expect these things from me, please.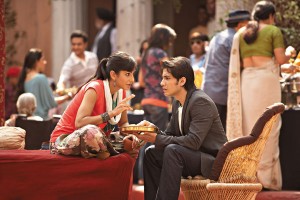 Working with senior actors in the movie.
Kanwaljit ji and I had a very poetic relationship because we're both very interested in Urdu poetry, so we always discussed kalam. He's a very pure and good man, and we always had a fun time. He's an example of a man in his age who can have so much energy. You would have to lift dumbbells and exercise before you can shake his hand or else you would go falling. He has that strong passion in him.
Tell us about the costumes and styling.
Of course the look matters a lot. What you're wearing, carrying…it gives your character a personality, so styling is very important. I was very comfortable with the clothes. I was not very fussy about the clothes, what to wear, what not to wear. I put on whatever the stylist and the director liked. Harmeet and Neha did a great job and their assistants were especially helpful. They worked hard and put in effort in trying to make a person like me look good. And for styling, makeup, Amar dada and Milan, who did my hair style, are very cute and good people. I had fun working with them.
Expectation about the movie in Pakistan
People are really looking forward to it in Pakistan. I remember there was a talk of having premier in Pakistan (Karachi) and the people are so looking forward to a premiere in Karachi – I think getting to see Katrina live in skin, flesh and blood in Pakistan and Imran Khan so I think it will be a big step actually. If it goes well and we go there to do the premiere … I think it's the most talked about film of the year.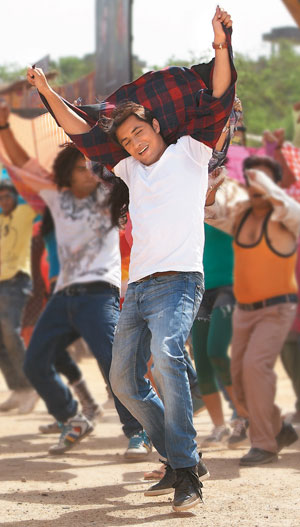 Experience with other cast of the film.
Yaar how lucky can you be? There has to be a limit to luck Sudeepda (the Cameraman) – what a fantastic person!! I mean the things that I shared with him, you know, he is a big music fan and alternative music fan, so I mean we get to share so much. Since I'm a painter, not by profession I would say but I graduated as painter from the National College of Arts, we discussed a lot of art and lot framing composition and colour tones. He had got on his iPhone where he collects picture tones and all that and we kept sharing these cool apps which do lots of colour treatment and all of this kind of stuff, so abhi bhi (even now) Sudeepda was here and he told me about the jazz festival that he had attended in Toronto while he was there for the IIFA. He is such a good, sweet person to have behind the camera who is watching you from that lens – so lucky, again.
On his dance in 'Madhubala'.
The dilemma with me is that I want to be perfect but I'm far far far away from perfect so in order to bring that gap close in, I then keep on it…keep on it…keep on it…keep working on it until I get to the point where it looks good. Because I'm a singer and not a dancer, I had to get into the habit of dancing and all that, especially since the steps weren't easy – they weren't a piece of cake for me. While practicing I tried to make sure that when I went in front of Ali the director, that there won't have to be any retakes because of me. So I kept doing it my way in my head.
Tell us about your character – how different are you in real life.
The character is nothing like me in real life actually and that's why I enjoyed doing it because if he was just like I am, then it wouldn't be as much fun. He's a little over the top and I'm under the top so it was fun playing this character because his lines were interesting. Ali wrote it with a margin of being a little loud. There was room for body language and for the pitch to be raised or lowered and it was humorous. So that's what I tried to do with it. At one point I asked Ali if it was too much over acting when there was a video chat scene and he says something like, I don't know…underwear-shunderwear something. But Ali said no, this is the character, so I guess the director knows his character the best. We as actors need to deliver what the director is looking for, so that's what I have tried to do so let's see how happy Ali is.
Why should one go and see Mere Brother Ki Dulhan?
People will go to the theater, there will be a very long line, there won't be seats available – and they won't be available until after 5-6 days. The people will sit, whistle, and they're going to have to laugh and enjoy. They'll have so much fun and they'll tell their friends "yaar, you have to go see this film!" (Laughs)
With contributions by Trupti Kantilal, Maria S and Stacey Yount