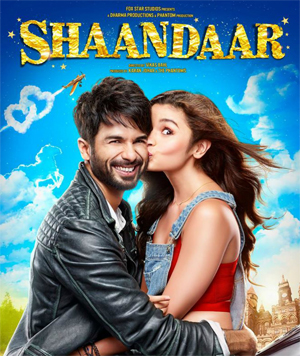 VisitBritain launched their latest Bollywood Britain – Shaandaar campaign, carrying forward their Bollywood association in India. This campaign is in association with the Indian Film Industry's prominent film labels, Fox Star Studios, Phantom Films and Dharma Productions. Shahid Kapoor and Alia Bhatt, who star in the much awaited rom-com Shaandaar, which will be releasing on 22nd October 2015, were seen at a special launch event promoting the film's alliance with destination Britain.
Bollywood fans have been experiencing Britain through films over the years and many fans can name classic scenes from their favorite movies. The beauty and romance of the destination, well captured in these films, provide the perfect setting for film lovers to visit and experience this in Britain for themselves. Memories, Passion and Adventure are the latest offerings of the Bollywood themed campaign that VisitBritain has undertaken in India this year. The synergies with the film Shaandaar are well matched, as the film has been extensively shot in the English Countryside.
The lead actors of Shaandaar, Shahid Kapoor and Alia Bhatt, spoke about their experience filming Shaandaar and their time in Britain. Alia Bhatt said "I love England, and it's one of my favourite holiday destinations. The shopping in London is fantastic. And there's so much to discover when you step out of the cities – from the very pretty Lake District to Leeds where we shot a lot of Shaandaar. My mom is British-born and it is where she began acting so it will always have a special place in my heart as well as in my family."
Shahid Kapoor added, "I enjoy the UK very much. There's a wealth of history, dramatic scenery, sacred sites, legend and tradition all come together, and there's so much to discover when you step out of the cities. The countryside specially, invokes a sense of romance that's perfect for a holiday."
Britain welcomed over 390,000 visitors from India in 2014, making India the biggest source market for visitor numbers from the BRIC markets. Therefore, the need to create bespoke campaigns that appeal to the Indian visitors is a priority for VisitBritain. VisitBritain's Regional Manager for Asia Pacific & Middle East, Sumathi Ramanathan adds, "We are very pleased to be working with this movie and the fantastic star cast in it. We are honoured to have partnered with Dharma productions for this campaign. Britain is known for its lush countryside and picturesque locations and this opportunity helps us celebrate that and much more. We hope that this film is a blockbuster and encourages all the Indian travellers to come relive their Bollywood memories in Britain."
Bollywood Britain – Shaandaar, a contest based campaign, launches the TVC with a strong digital focus in association with sponsor partner Turkish Airlines. The airline is offering 2 Couple Business Class flights to Britain for the lucky winners to go explore the stunning British countryside. Aimed at the young discerning Indian traveller, to assist them in planning their Bollywood Britain travel better, VisitBritain along with Lonely Planet India, have also published the guide 'Great Britain – The Bollywood Way'. This guide draws special focus on all the serene landscapes of Britain where iconic Bollywood films have been shot.
Turkish Airlines General Manager's, Mr. Mehmet Akay from Mumbai and Mr. Ozer Guler from New Delhi, said, "We are delighted to be the airline partner of choice, for the VisitBritain – Shaandaar campaign. Britain is one of the most picturesque places in the world; an ideal romantic get-away with its scenic beauty, food and nightlife. Turkish Airlines flies daily to Britain from across 109 countries via Istanbul, with quick 3 hour connectivity. The Airline has one of the best services to offer to its business class travelers. Turkish Airlines is the only Airline flying to maximum countries in the World. Because of our superlative services we have been also chosen by Skytrax as "the Best Airline in Europe" for 5 years in a row. We would love the campaign winners to "Widen" their experience and make their travel unforgettable with Turkish Airlines".
The star-studded event took place at the Taj Land's End, Mumbai and was attended by the British Deputy High Commissioner, senior VisitBritain management, as well as Turkish Airlines delegates.