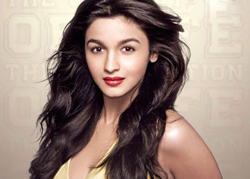 19 year old Alia Bhatt has made everyone proud with her debut Student of the Year with director Karan Johar, and is all set to make her mark in Bollywood for good. Alia's sister Pooja Bhatt was looking to cast her in her next film Mr. Love, which is based on the Nanavati murder case of 1959. However, Pooja had to drop the plan as she cast her favourite actor Randeep Hooda in the male lead, and Alia is too young to be cast opposite him. Randeep Hooda will be playing the role of a man whom the married woman will conspire with in order to kill her husband.
Pooja confirmed that Randeep has been casted for the role of Prem Ahuja, the businessman. "I really wanted to cast Alia for the role but I cannot. I need a woman and that too with a British descent. We are trying to look for talent outside India. Alia is too young to play a married woman and unfortunately, all the films that I am making need older girls," she said.
Pooja also expressed her desire of remaking Dil Hai Ki Maanta Nahin with Alia, but she doesn't know if it could better the original. However, Mahesh Bhatt says it is no such thing that Alia has to do her home production films. "I have completely left it to her to decide what she wants to do. If we have any project where we would want to cast her, we will approach her and then it is solely her decision. I am very proud of SOTY because she did it all on her own and never thought she has some advantages because of being a star kid. Also, I knew she is in Karan's hands and he will handle it all. I don't believe in crippling children by being over protective. She still has a long way to go," he added.
Alia had recently said it was a safer thing to debut with a family entertainer, since the Bhatt camp has a different genre of films. "People think it is very easy for star kids to debut, but the easy part is only the platform and not the hard work. If I wasn't able to stand out in the 500 girls auditioned, I would not have done SOTY. Being a star kid is of no use if you are not able to perform and pull it off on screen," she said. She also added that her father was very happy with her choice as he was friends with Yash Johar and trusts Karan. "He told me he will watch SOTY when it releases in Gaiety Galaxy as audience," she smiled.
We wish you all the best, Alia!