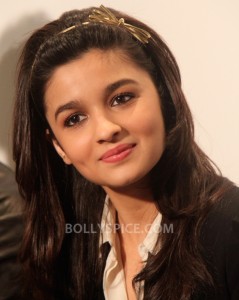 Alia Bhatt has stated that her recent success is down to all the hard work she had put in, as well as destiny. The 21 year old actor has enjoyed three back-to-back hits this year, with Highway, 2 States and Humpty Sharma Ki Dulhania achieving critical and commercial success.
"I don't know how to measure success," said Alia to the Indian media. "I have been fortunate that I got exciting films to do and work with talented directors who brought out the best in me. I am thankful to Karan (Johar) for giving me a dream break in this industry. I think the success that I have is due to hard work and destiny. It is important to stay grounded and not take things for granted. With each film I want to entertain the audience."
Alia has also said that she is scared of failure and hopes that can continue to entertain the audiences for many years. Failure worries me, nobody wants to fail," added the actress. "There is a fear that one day films will not come my way or if someone doesn't watch your film that is a worrying point. It is unpredictable in the industry. But I am happy that my films have done well."
With three hits to her belt, surely Alia can chill out for the rest of 2014!